Last Date for the submission of Bank of Punjab Apna Rozgar Scheme Application Form 2014 15 By Chief Minister Punjab Shahbaz Sharif is announce. Before this due one must download this form and submit to given places. This is second time when CM Punjab announces same kind of scheme through which needy person get a vehicle that is used as taxi as well as for carriage. Through this many of eligible persons get chance to run their own business without any trust when amount will recover back. This time Apna Rozgar Scheme targeted carriage vehicles because through this there is greater chance of income. Here important thing to mention is that CM Punjab ordered to take care of merit. For this a comities is establish that has a sharp look on everything from the time of application submission to time when vehicles are give to eligible person.
This is one best opportunity for all those that look forward to some kind of business. Be quick and submit application form before given date. One can get applications form from any branch of Bank of Punjab Apna Rozgar Scheme and after fill it completely submits it to any branch of BOP. Further information is also given as below.
 Check Eligibility Criteria of this Scheme
Application Form for this Scheme
Details of Amount Down Payment and Installments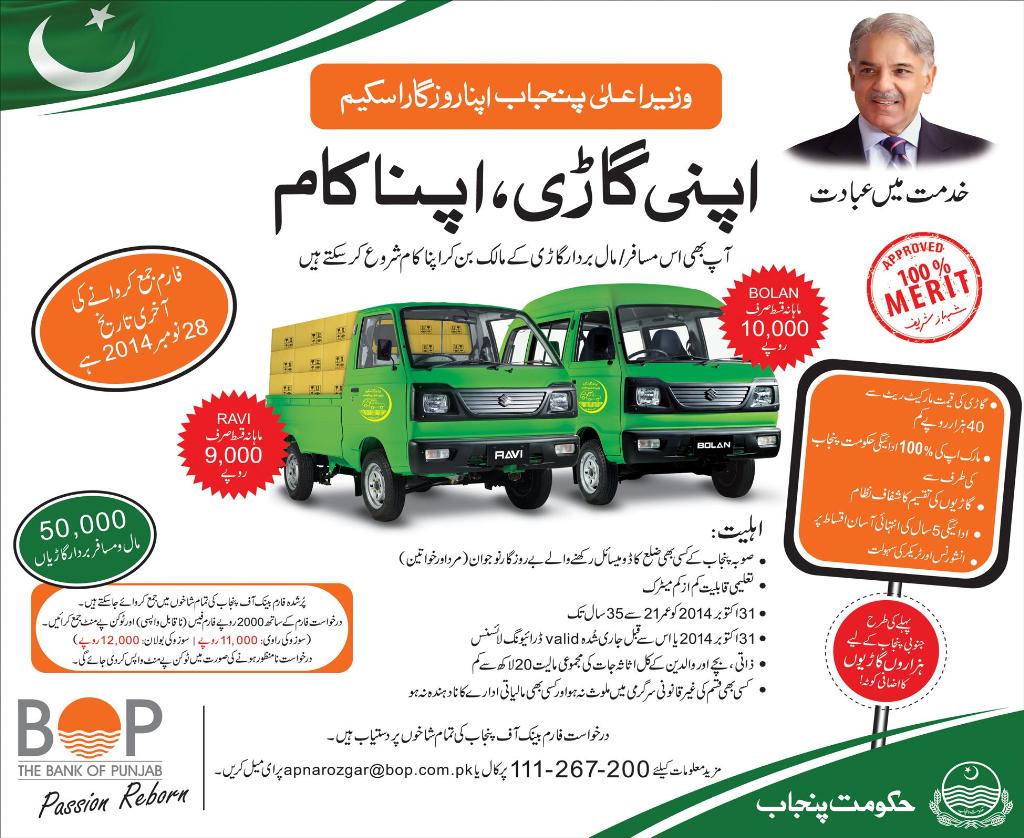 Last Date for Application Form: 28 November 2014
Number of Vehicles: 50,000
Some Features of this Scheme:
These vehicles are available in 40000 less price then market rate.
Vehicles are also free from any markup
Vehicles distribution will must fair and during distribution this thing is especially under consideration that vehicles are given on pure merit.
Installments are paid in period of five years time duration.
Tracker and Insurance are also available in this scheme.
This is one best chance to get Ravi or Bolan through Bank of Punjab Apna Rozgar Scheme By Chief Minister and for this submit Application Form before given date.