The topic here we will discuss is Hyderabadi Korma by Chef Zubaida Tariq. She is known as Zubadia Aapa and she is a popular cooking expert.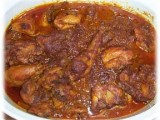 She do not know how to cook at the time if their marriage but with the passage of time she expert in cooking .Zubaida Tariq was born 4th April 1945 and she started her career as a cooking chef in the age of 50.Since then she has been working in the field of media as a cooking expert nearly 18 years. Here we share with you a delicious recipe Hyderabadi Korma.
Cooking time: 35 minutes
Serves: 3-4 people
Recipe Ingredients:
Mutton1/2kg
Yogurt 1 cup
Oil / ghee 1 cup
Kashmiri red chili 4
Onion chopped 4
Almond 6
Green cardamoms 6
Cumin seeds 1tsp
All spice 1tsp
Black cumin 1tsp
Ginger garlic paste 1tbsp
Poppy seeds 1tbsp
Whole coriander 2tbsp
Desiccated coconut 2tbsp
Salt to taste
Method Hyderabadi Korma:
First of all take a pan and add in 1 cup oil for heat and after this add in 4 chopped onions and fry till golden brown. When onion golden brown then remove the onion from the pan and spread on a paper. Leave these brown onions till crisp. On the other side take a bowl and add mutton for marination along with 1 cup yogurt, 1 tbsp ginger garlic paste and salt as to your taste. Now take a pan and add in some water for boiling kashmiri red chilies, when chilies boiled blend with whole coriander and add this mixture in mutton. Now put this marinates mutton in a pan and cooks this on low flame till water dries.