This very special kind of recipe consists of different small pieces of vegetables and fruits, while number of other items make it delicious. Usually people like its taste after taking it at low temperature. There are so many kinds of salads available but now one able to knows the right way that how to make Russia salad at home in Urdu, Chef Zakir also followed same procedure. One can also understand these instructions in Urdu to. The trend of foreign dish increased rapidly in Pakistan because a number of tourists visit historical places and they demand their country food. Beside them, Pakistani generation is also fond of foreign dishes. Experts say that through this one can lose their heavy weight that why most of people prefer it. This consists of very low calories instead of other eating things. This is the reason that people make it him because this very rich in taste.
 Ingredients:
Cauliflower: 1(fine long pieces)
Carrots: 3(boiled and cut into pieces)
Potato: 3(boiled and cut into small pieces)
Peas: 1 Cup (Boiled)
Apple: 3(Small Pieces)
Pineapple Cubes: A Little Teen
Raisins: Half Cup (dips in warm water and fried)
Cumcumbers:  2(cut into cubes shape without seeds)
Salt to Taste
Fresh cream:  Thus of One Cup
Mayonnaise:  One bottle
One can mix Sugar as well as white pepper according to taste but for this one spoon is best mix in it.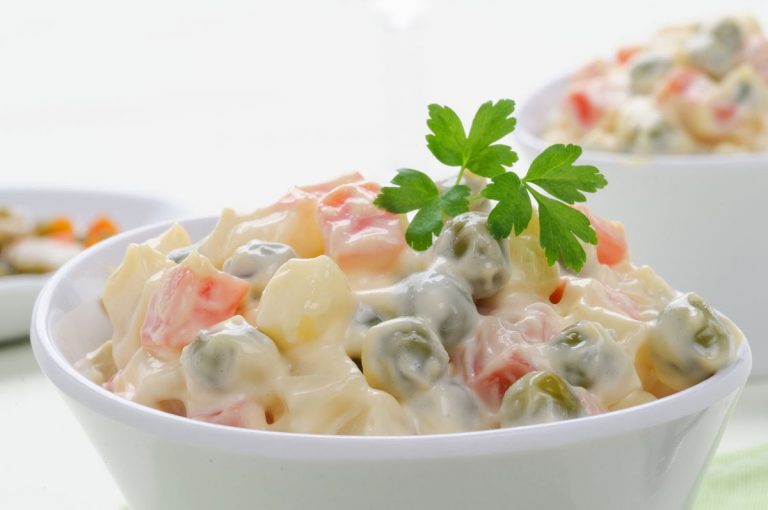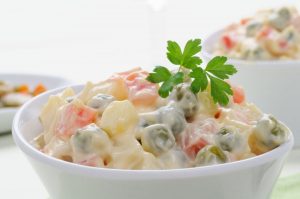 Method:
First of all get a beautiful bowl and put into all above vegetables and fruits. After this adds white pepper, salt, sugar, cream, and Mayonnaise .So mix very well all ingredients and put this bowl in a fridge for good taste. After this, spread raisins all over it before serving this delicious item.
 Garnishing is an important thing which is necessary to high light this yummy one. So get some fresh leaves and decorate the base of the dish before putting salad into it. Cold one is much tasty instead of warm, so always serve it in this way. These vegetables and fruits which use in this is a good source fiber. Fiber is sport your stomach for better digestion and keep blood sugar in control. This gives you taste as well best health guarantee so prepare it with all fresh items.