Job Fair 2012 in UMT has been all exploded for the students. UMT is famously identified as University of Management and Technology. This has been one of the top distinguished and leading universities in Pakistan. This job fair will be taking place on 20th December 2012. This fair has been resolving within the career opportunities for the students. This happening has been arranged by Jang Group and will be organized in the main campus of UMT.
MAIN AIM OF JOB FAIR 2012:
This job fair has been just commenced for all such students who are searching for the jobs and are often quite eligible as well. Almost 150 employees of diverse known and successful companies will be attending this event so that they can make the choice of most skilled and capable student. Well not just the students of UMT but even the outsiders can also participate in this job fair.
Job Fair 2012 In UMT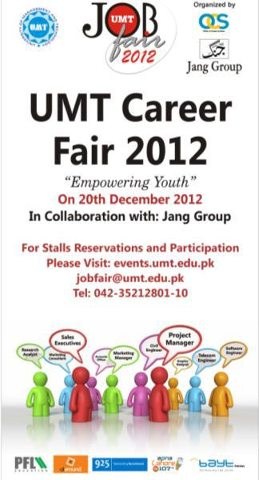 JOBS CATEGORIES FOR STUDENTS:
All the students and unemployed people can apply for the below mentioned posts:
Software Engineer
Telecom Engineer
Graphic Designers
Project Manager
 Civil Engineer
Marketing Manager
Accounts Officers
Sales Executives
Marketing Consultant
Research Analyst
ORGANIZATIONS INCLUDED IN THE JOB FAIR 2012:
Panasian
-Qarshi
-PEL
-WI-Tribe
-Mathletics
-Kohinoor Textiles
-Maxim International
-Medi Pak
-Pepsi
-Interwood Mobel
-Netsol Technologies
-E-bryx
-Raaziq
-Berger Paints
-Diamond Group of Industries
-Shabir Tiles & Ceramics
-Afaq
-STILE
-Next Bridge
-Auto Soft Dynamics
-PFL
-ALM Human Resource
-CCL Pharmaceuticals
-Micro Tech Industries
-Techliance
-Orlando
-FES pvt ltd
-GRC
-Sparco Paints
-Jalal Sons
-Ciklum Pakistan Ltd
-HKB
-Saphire
SPONSORS OF JOB FAIR 2012:
PFL Education
925 Recruitment
Pepsi
Apna Lahore FM 107.4
Bayt.com
Olaroun
CONTACT DETAILS:
If the students want to get any details about the event and its timings they can freely get connected with the event management through the below mentioned email address and contact number:
Email:[email protected]
Phone: 042-35212801-10
Well on the whole we would suggest all the students of UMT and outsiders that they must get benefit from this Job fair on 20th December 2012. We are sure that if you are filled with greater magnitude and capability then the companies will surely identify their talent.