Bad breath means to have a small smell from the mouth. This problem is called as Halitosis. This problem is mainly due to gum disease or cavities. Dry mouth, poor dental hygiene, Abscessed tooth, Tobacco, diabetes and Medication are the also the reason of bad breath. Bad breath sometimes embarrasses you in the public and sometimes it becomes tough for the people who are around you if you are having bad breath. To avoid from such kind of embarrassment people should do proper treatment. Numbers of products are available in the market to get rid from bad breath but they all are very expensive. Naturally there are a number of ways to get rid of mouth smell. Few of the home remedies are mentioned in this article. But this all info is not in Urdu but this all is easy to understand in English Language.
"Solution Tips that How to Get Rid of Mouth Smell"
Daily Brush your Teeth– It is recommended to brush your teeth on regular basis. Make it your routine to brush teeth twice in a day. When you brush your teeth it removes plaques from your teeth thus lessen the chances of many gum diseases. Moreover, use the best quality of brushes so that your mouth becomes germ free.
Gargling– Gargling is the simplest way to get rid from bad breath. Daily wash your mouth with excessive amount of water. Furthermore, if you are suffering from sore throat this is considered very effective way. Moreover, add a little amount of salt into the warm water and then wash your mouth it helps to keep your muscles relax and also helps to wash out all germs and bacteria from the mouth
Lemon– For any kind of treatment lemon is a very effective and strong product. It is authentic and oldest way to recover from any kind of problems. It gives you a fresh air to breathe. To clean your teeth from the lemon for this you just have to add few drops of lemon onto your brush and then brush your teeth then wash your mouth with water. This will give you a pleasant smell.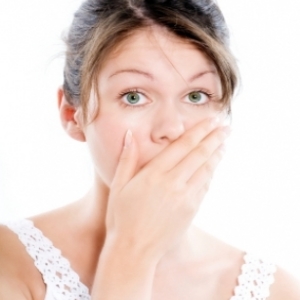 Moisturize your Mouth– Try to keep your mouth moisturize every time to get rid from bad odor of mouth. Mucus inside the mouth release chemicals which causes bad breath. Thus when you keep your mouth moisturize germs will not stuck with your teeth thus germs always stay away from the teeth. Moreover, drink plenty of water as keeps your glands active. Mouth glands excrete secretions .These secretions are very useful in removing bad odor from the mouth
Eat Banana– Banana is a natural gift which is a very healthy fruit. Banana has some special substances that help to remove bad smell from the mouth. Therefore take banana frequently as it is the best remedy to remove the germs from the mouth.
Parsley– Parsley leaves are very effective in removing the bad odor. Special bacteria's are found in parsley leaves that kill the germs from the mouth thus giving you a pleasant smell in the mouth.