Mehndi is one of such ingredients that play an important and significant role in the wedding ceremonies. The bride is said to be incomplete without the Mehndi and in the same way the religious festivals are also considered to be imperfect without the appearance of Mehndi. As much the Mehndi looks gorgeous and attention garbing for others the more it will make the women or the bride prominent and noticeable. Mehndi designs are always introduced in different attractive styles and patterns that are all the time loved by the women and girls in just one view. There are many prominent styles including the floral patterns, royal images, artistic texture and cultural designs that involve the decoration of the entire hands till the ankle. Among such styles is the flower Mehndi designs. Flower Mehndi designs are getting tremendously famous amongst the girls.
Flower Mehndi Designs 2012 For Hands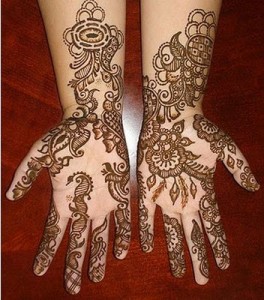 This prominently involves the decoration of the entire hand with the flower designs that certainly intends the whole hand even additional stunning and mesmerizing. However, the best way to make the hands captivating is to select the Mehndi texture according to the style of the wedding dress and most importantly its color. Additionally, no one can deny the importance of Mehndi and now when it comes to the flower mehndi designs it is strongly harvesting its roots in the modern fashion market place. Furthermore, the flowers should be selected according to the pattern that suits your hands. When you select a big flower on short size hands palm then it would appears to be indecent because it will never leave some extra space for the additional ornamentation designs.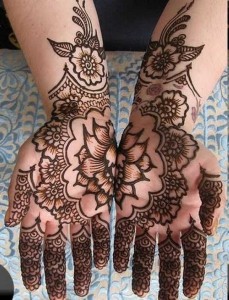 In addition many women and brides also recommended for the brides for their feet as well. Besides, in all such aspects the flower designs are quite complicated and difficult so there is always a need f expert and trainer who design the pattern in efficient and well mannered that would grab the attention of all the people in the wedding festivities and parties. This form of mehndi can even be decorated with the embellishment of glitters and small designs on its surroundings that would make the Mehndi style more pleasing for the eyes. On the whole all those women and forthcoming brides who have still not try the flower designs they should try it now and we are sure that you will fall in love with your hands. Just go ahead and try now.