Punjab Skills Development Fund  (PSDF) is introducing a new scheme to promote quality vocational skill development.Punjab Skills Development Fund PSDF 2015 Application Form Courses Free Vocational Training details are given here. With the help of this training more than 11,000 individuals will be trained with various skills to make them able for doing jobs. This scheme will target the people from many districts including Khanewal, Vehari, Bahawalnagar, Bahawalpur, Lodhran, Muzaffargharh and Rahim Yar Khan. Punjab Skills Development Fund is one of the non profit company which was being set up under the companies ordinance 1984 by Government of Punjab. It is the company which helps to provide the aim and quality with the help of vocational training to the poor people who are not able to get skills and do a good job. This organization started its functioning for the poor people belongs from the four districts of southern Punjab including Bahawalpur, Bahawalnagar, Muzzaffargarh and Lodhran. After that it expanded its functioning in the district of Chiniot, Faislabad, Gujranwala, Khanewal, Lahore, Narowal, Rahim yar Khan, Sargodha, Sheikhupura and Vehari. So that was the short introduction of the Company and now we are going to give you psdf courses 2015 details along with the groups will taught in this training are under here:
Psdf Courses 2015:
Construction
Automobile
Electrical
Mechanical
Energy
Garments and  hospitality
Service Sector
To Apply:
Punjab Skills Development Fund PSDF 2015 Application Form Courses Free Vocational Training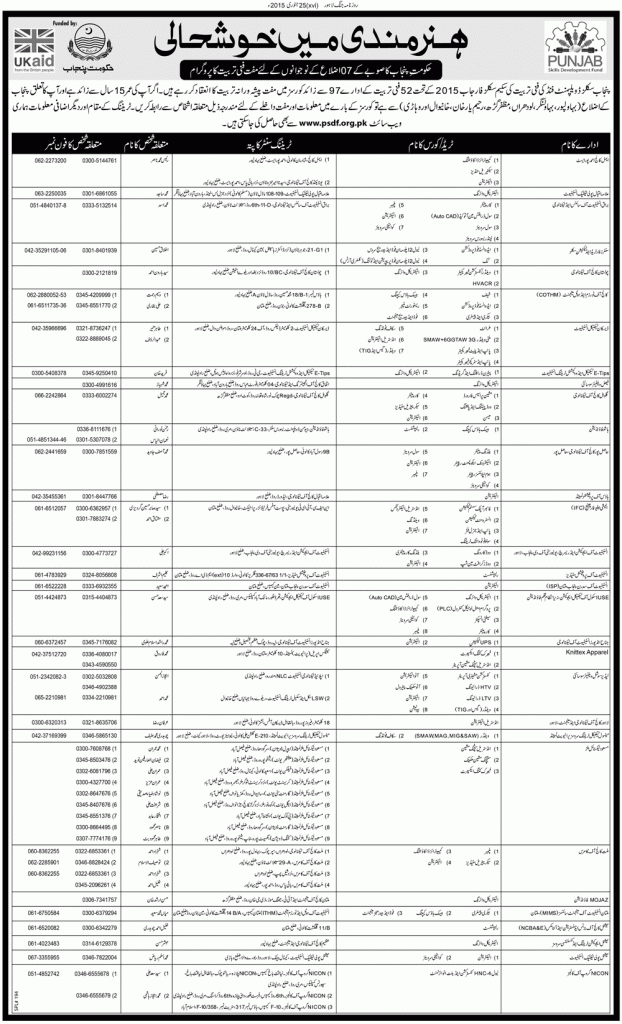 Psdf Job Skill Courses 2015 Details:
All those candidates who want to get benefit from this scheme which is fourth round of one of PSDF's major training scheme skills that are being demanded in the market. After doing this training a person will be able to do any type of job at all. So you have to get hurry to apply for this scheme because it is limited for some time.
Psdf skills for job 2015 is the training which will be imparted in diverse trade groups including construction, automobile, electrical, mechanical, energy, garments and hospitality and service sector.
To get more latest updates about PSDF stay in touch with this page and if you want to apply for this scheme just click on the link given above for applying. Psdf 2015 application form and psdf job skills development program eligibility is also given above,