The topic we discuss here is Ramadan First, Second, Third Ashra Dua 2014. The importance and dua of 1st, 2nd, 3rd Ashra of Ramzan with total details is also discussed here. Ramadan is the gift of ALLAH for those people who have fast during Ramadan. Our HOLY PROPHET PBUH addresses his speech in the last days of SHABAN. In his speech Holly PROPHET describe the importance of Ramadan and after this high light some important issues related to Ramadan. HOLY PROPHET describes that; don't spoil every moment of Ramadan .ALLAH divide Ramadan into three Ashras; First Ashra is called ASHRA E RAHMAT; Second is called ASHRA MAGFIRAT and last Third Ashra is called ASHRA E RELIEF FROM FIRE OF HELL. According to nature of these Ramzan three Ashras three dua are declared so through reciting these dua of Ramadan one get swab. Here we try to update the first, second and third Ashra Ramadan dua so keep in touch with this page.
ALLAH asked his people that first ten days of Ramadan divine Rehmat. First part of this month is called Rehmat. In this period Muslims worship our ALLAH and recite HOLY QURAN daily .ALLAH is REHMAN and REHHEEM IF people call his ALLAH in their bad time period ALLAH listen his problems. Second ten days is called ASHRA MAGFIRAT .in this time period ALLAH forgive those people whose have fasting during Ramadan.in second ten days ALLAL ask again and again their people I am happy from their worship. Last ten days of Ramadan is called RELIEF FROM FIRE OF HELL.
Ramadan First, Second, Third Ashra Dua 2014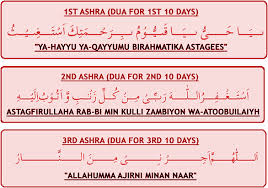 Ramadan First, Second, Third Ashra Dua 2014 is given there…
Allah insists their people to search a night called SHABE QADER. This night is very precious for all Muslims because the worship of this night is best worship of thousand nights. This is the big gift of ALLAH.HOLY PROPHET HAZRAT MUHAMMED PBUH ask in DAR E MANSHUR that ALLAH divine SHAB E QADER for my OMMAT. ALLAH divine HOLY QURAN ;in last days of Ramadan. In SHABE QADER Angels birth and accept Dua.  It will necessary that you must recite Ramadan First, Second, Third Ashra Dua 2014 and it's give a high reward for these dua reciting.