Here we will explain or highlight top job sites in Pakistan. According to latest and recent Economic survey that almost 54 percent people in Pakistani are employed and rest of the percentage is unemployed. It means that almost half of the population in Pakistan is searching for the job in order to earn bread and butter. Pakistan is the country which includes incredible talent and potential. As we know that these days Pakistan is facing the toughest period. These days, even the masters degree holder would not be able to find the perfect job. Job sites play a very important role for completing the dreams of young and talented population of Pakistan. If person wants to search for best career opportunities in Pakistan then he should choose the right websites for the job search. For increasing the chances of job search, person should update his/her resume that shows his/her strong points and achievements.
The last key point for getting the perfect job in Pakistan is that person should avoid doing frequent job switching. If person wants to become the demanding professional then he should keep in mind that regular job switching brings a negative impact on his/her resume.
Top Job Sites In Pakistan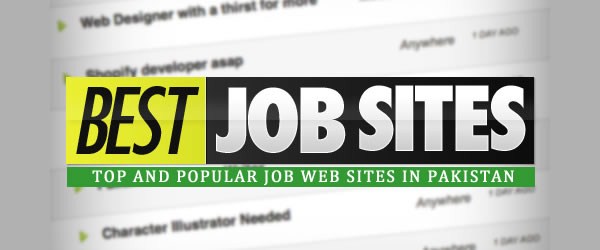 According to research that job sites plays a very important and significant role for finding the perfect and ideal job in Pakistan. Many fresh graduates don't know that how to find or start searching for the job. For this purpose, job sites guide them for finding the jobs. Moreover, by visiting those websites, people will get a job. In this post, we are presenting best and top job sites in Pakistan. The best and top sites for finding the jobs in Pakistan are as follows:
www.rozee.pk
www.mustakbil.com
www.bayrozgar.com
www.apnijobs.com
www.brightspyre.com
www.pkjobs77.com
www.naukrijunction.com
www.elogjobs.com
www.careermetro.com
www.workjunction.com
www.careerjobs.com
www.jobs-in-pakistan.com
www.jobsandcareers.org.
www.jobs.careers.org.
www.jobnjob.org.
These are considered to be best and top job sites in Pakistan. These job sites are considered to be best sites for finding the jobs. If you are the fresh graduate and wants to find the perfect job according to your qualification then you should browse the above mentioned job sites. After browsing these sites, you will surely get the best job according to your qualification. So don't waste your time by giving resumes in different companies or wasting your money. The best way is that just use the internet and open these websites and then submit your resume.