Well there would be no one who is not aware from the word Suzuki. It is one of the distinguished and yet the famous known cars brand in Pakistan. This brand has all the time won the hearts of millions of people by introducing something fresh and special in cars category.  As we know that many cars brand are increasingly emerging in the market and on the other hand a strong competition is prevailing in the market so how can it be expected that Suzuki would left behind. Freshly, Suzuki has introduced the newest and hottest Mehran EFI EURO 2 car in Pakistan. As it was introduced all the world therefore Pakistan has firstly arrived in the race in attaining the Mehran VX and Mehran VXR that is filled with tremendously strong and tough EFI engine stuff. At first Suzuki only highlighted this car all the way through print media but the car will soon become the king of the roads in the middle of June and July 2012. In this article we are discussing the top notable and eminent salient features and specifications of Suzuki Mehran EFI EURO 2.
Suzuki Mehran EFI Euro 2 Price And Specifications In Pakistan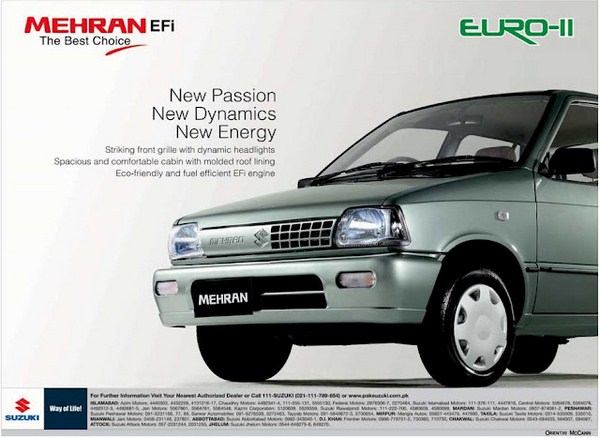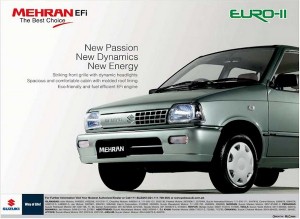 Suzuki Mehran EFI Euro 2 Price And Specifications In Pakistan
 FEATURES OF MEHRAN EFI EURO 2:
This is one of the first cars that are filled with the capacity stand of EFI engine.
The car is highly introduced in many metallic colors shades that are appearing to be attractive for the public.
The whole car has been given the fine body shape.
Moreover, the spacious cabin inside the strong that are covered with the metallic body material.
COLORS OF MEHRAN EFI EURO 2:
                                                            The colors that are available in Suzuki Mehran EFI Euro 2 are as follows:
Silky Silver

Solid White
Pearl Red
Light Blue
Grey
SPECIFICATIONS OF SUZUKI MEHRAN EFI EURO 2:
                                                                  Now let us discuss the specifications of Suzuki Mehran EURO 2:
The total numbers of doors include in the car are five.
The actual length of the car is 3,300 and height is 1, 4100.
The capacity of turning the wheels is about 4.4mm.
Total number of seats is five that can easily afforded maximum five people.
The fuel tank can accompany maximum 30L.
Moreover, the CNG tank can excess 40L.
PRICE OF SUZUKI MEHRAN EURO 2 IN PAKSITAN:
                                                 The actual price of Mehran EURO VX is Rs.555000 while the price of Mehran VXR EURO II is Rs. 607000.
On the whole all the Suzuki lovers finally a new model has arrives in the market at very least affordable rates. Just rush now before the stock gets over.