By all means, Fridge covers are the best to protect the top of this appliance from the dust. And in case, one gets a beautiful print of this product then surely it will make the fridge more beautiful. Just now, COVERS MALL is hitting the market with such an elegant fridge cover of different styles. Moreover, the side pocket of these covers must provide you a space to keep anything in them. Yes, in a brief time span, they got fame just because of the commitment to provide the best possible quality to the customers. Meanwhile, there are not size issues of their covers because they stitch them manually for every appliance. Surely, there are rare brands that work like this.
Fridge Cover Price in Pakistan:
Basically, Fridge Cover is a pack of 3 items includes a top cover with side pockets and 2 handle covers. Again different prices are fixed for the fridge covers, but the most useable fridges are of medium and large size and their covers rates are:
Medium Size Fridge Cover Price: 850 Rupees(Handle covers also include in this price)
Large Size Fridge Cover Price: 1000 Rupees(Handle covers also part of this price)
Other sizes also customized.
How to Order?
It's simple to order from the COVERS MALL. One will also get in touch with them on their social media account or else one also calls them too on their number.
What stuff used for this cover?
The Fridge Cover is stitched in a cotton fabric double layer with inside foam filling. Yes, this type of making will give this cover a good grip on the fridge.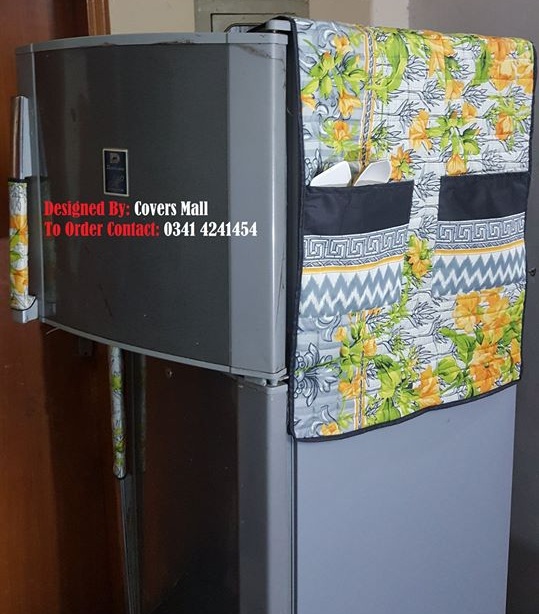 Note: More Designs of these covers are also accessible if one will inquire from Covers Mall.
Prints:
Many types of designs or prints are available for this cover. So one has complete freedom to pick anyone and order COVERS MALL to make them for their sizes. Overall this pack will update your kitchen looks too.