Basically, natural disasters mean the unpredicted damage which occurs naturally. These types of disasters are happening across the world that caused huge destruction which sometimes results in the loss of human lives. Thus, no one in the whole world can stop them but it is found behind these disasters there are serious natural reasons. Flood is one of the common natural disasters. The flood causes a considerable amount of destruction by the abundant flowing of water. Some floods occur unexpectedly and move away quickly. During 2023 the best essay that covers all the related info on the topic of the flood in Pakistan with an outline is here in detail.
 In Pakistan, floods are ordinary as the territory of Pakistan contains rivers. Unluckily, Punjab and Sindh are heavily affected by the flood. During the monsoon season, the rivers and canals of the these provinces filled up at an enormous rate by heavy rainfall due to which the river basins go down into the water. In Sindh, hurricanes and massive winds may sometimes carry seawater which is another reason for flooding.  In addition, heavy rainfall and ice melting are the main causes of the flood.
Every year in Pakistan flood causes huge devastation. The after effects of the flood are more than worse. People who used to live near the river banks lose their lives, their houses got collapsed, and their possessions and properties got ruined. Meanwhile, a large number of people have to shift towards a safe place. The affected people live without shelter, food.
They even have no basic necessities of life. By drinking unclean water, the victims of flood suffer from many diseases. Thus, the health issue is also created by the flood. The helpless people suffer from malaria, measles, diarrhea. Furthermore, the means of communication and transportation are also badly affected.  It wipes away even the heavy items. Every disaster has its end whereas in Pakistan flood disaster has become the dilemma of each year.
The government of Pakistan every year makes plans and efforts to avoid this natural disaster. The Government should endorse money for longer-term loans and gratuitous reliefs. The government should draw its attention to making the bigger dams and special ways must be adopted that transfer the overflow of water into the dry areas or into the lakes and river.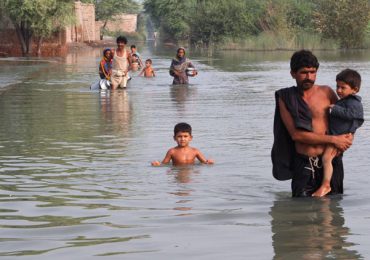 The government has made relief committees and asks for shelter, food, and clothes. Pakistan's army is appointed to help, assist, and support the victims of the flood. People on their behalf help their brothers by giving donations and also pursued other people to help the needy people.