Zindagi Gulzar Hai is the popular and renowned Pakistani romantic drama serial and this drama serial aired on Hum TV. This drama serial supposed to be released on 16th November 2012 but due to Pemra strike this drama aired on 30th November 2012. This drama serial is now airing weekly on Friday at 08:00 PM. Basically, the story of this drama serial is based on the renowned novel Zindagi Gular Hai by Umaira Ahmed. Here we will discuss the story and cast of Zindagi Gulzar Hai.
Zindagi Gulzar Hai Drama Story:
The story of Zindagi Gulzar Hai completely revolves around the life of Kashaf Murtaza ( Sanam Saeed ). She lives with her mother Rafia Murtaza ( Samina Perzada ) who separated from her husband Murtaza ( Waseem Abbas ). The main reason of their separation is that she would not be able to give a birth of baby boy and because of this reason Murtaza did second marriage. Rafia Murtaza lives with her three daughters and she is teaching at the government school. Her elder daughter Kashaf Murtaza gets an admission in the most reputable and well known university where she meets with a boy named as Zaroon Junaid ( Fawad Afzal Khan ). Initially, she started hatred for him but with the passage of time her hatred turns into the love. With the passage of time, Zaroon also started fall in love with her. Now we would to mention that Zaroon belongs to a rich family and lives with his father, mother and sister. In this drama serial, the friends of Zaroon are Osama and Asmara. But Zaroon unaware that Asmara is in love with him. Afterwards, she got engaged with Zaroon when she comes to know that he is in love with Kashaf she was separated from Zaroon. In the end of drama serial, Kashaf finally married with Zaroon.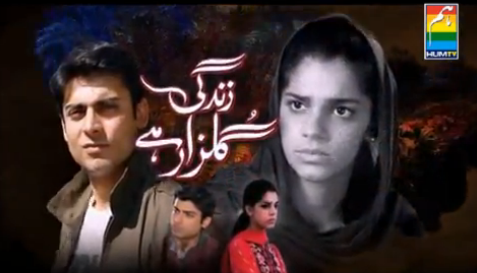 Zindagi Gulzar Hai Cast:
Now we would like to discuss the cast and crew of Zindagi Gulzar Hai.
Fawaad Afzal Khan as Zaroon.
Sanam Saeed as Kashaf Murtaza.
Mehreen Raheel as Aasmara.
Ayesha Omar as Sara.
Javaid Sheikh as Junaid.
Samina Perzada as Rafia Murtaza.
Waseem Abbas as Murtaza.
Hina Khawaja Bayat as Ghazala.
Moreover, we would like to mention that the song of this drama serial has been sung by Hadiqa Kiyani and Ali Zafar. This drama serial has been written by Umaira Ahmed. The director of this drama serial is Sultana Siddiqui. The producer of this drama serial is Momina Duraid.
Finally, we can say that Zindagi Gulzar Hai is the most popular and renowned drama serial. So all those drama lovers who would love to watch this drama should fasten their seats on Friday at 08:00pm.