Our local dramas are much-creating awareness in our society. Because of this Pakistani TV industry is growing day by day. They are telling us about family relationships, as well about the power which a woman has along with some more social issues of this society! How every much is important for us, all of these lessons are well portrayed in the serials. We have now so many channels options on our TV screens; includes (GEO, HUM, Express, Urdu1, ARY) and many more. They have totally brought revolution in our TV industry. For the year 2018, we have shortlisted the best TV serials list for you. Without any doubt, these are top 10 dramas for all Pakistani audience. If you have not yet started watching them, you can do so by right now. Hopefully, it will provide you the best sort of entertainment.
Majority of these dramas are about the rights of women in society after married her in-laws and her husband are the only things that matter to her. But the majority of the time these all things are not going in her favor. These dramas give us the lesson that a woman should face all of the hardships of her life bravely.
Note: Soon new list will public.
Pakistani Top 10 Dramas 2018
Best List:
10. Choti Si Zindagi
This drama was by far the longest on-air drama on this HUM tv channel. It was a lesson oriented serial that gives us the lesson that we should remain loyal to our wives and parents and should try to commit good deeds in this short life of ours.
9. Yakeen Ka Safar
It is also aired on same tv channel. It main actress Sajjal Ali and other actors in it gives another power to this drama. Its basic theme is also on women rights. Few of the episodes have been on aired right now and viewers have liked them so much.
8. Mubarak Ho Beti Hui Hai
This serial tells us that how our society does not accept the birth of daughters. This society came to those days when daughter's arrival considers as bad luck for them. This is aired on ARY digital channel.
7. Khuda Mera Bhi Hai
This wonderful serial is coming on ARY channel. This serial was based on the sensitive topic of transgender. One of best actress Ayesha Khan playing the role of a lady, who gave birth to a transgender. She fought with the entire society and raises her child. At a later this child ultimately became the best businessman of the year.
6. Khan
It is right no coming on Geo channel. A legend actor Nouman Ejaz has done a commendable acting. Watch this serial for once and you will become a regular watcher of it.
5. Sammi
This serial is based on the sensitive topics of our Pakistan society. And one can see these actions on HUM channel.
4. Sanam
This fabulous serial was aired on HUM channel. The acting done by the best team will be remembered for years and years.
3. Khuda Aur Muhabbat Season 2
Because of its season, 1 success; the makers of this serial came up with its 2 part. All of this cast as well team of direction and production hopes that it will get an awesome response.
2. Muhabbat Tum Se Nafrat Hai

This latest serial is aired on Geo channel. This serial got much hype because it is the first serial of Ayza Khan, right after her marriage. Meanwhile, the best Imran Abbas has also performed his awesome role.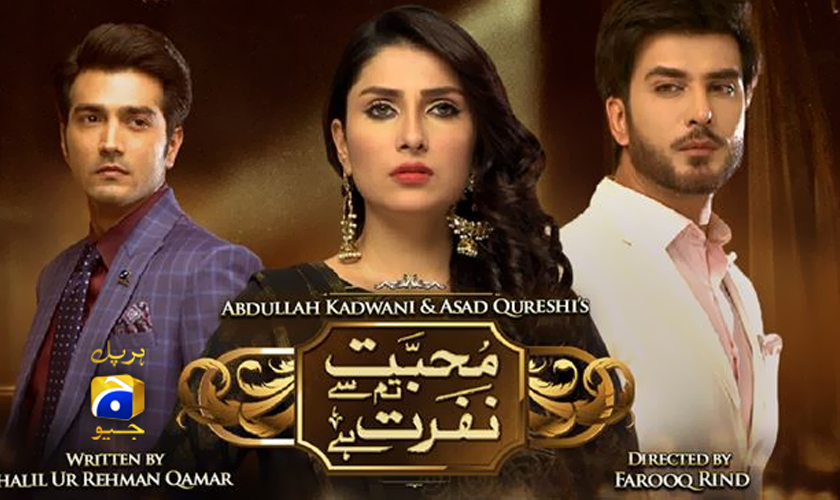 1. Alif Allah Aur Insaan

This latest arrival serial is coming on HUM channel. Its first episode is on aired so far and it got such a high rating. Hope its further proceeding will get more intentions.
Again the overall review of these Top 10 dramas in 2018 shows that a Pakistani woman should be independent in her life, she should know how to be strong enough. If her siblings misbehave with her then she should confront him. Meanwhile, if a girl is working in some office and she is in a legal attachment with a man then she should know her limits.