For kids, this is one of the ideal places to visit situated near the Fortress Stadium Lahore. For entering one just need to pay Joyland Lahore Ticket Price 2019 and enjoy on different Swing Wristband Rates are also very reasonable. As per history, this amusement park was the idea of Late Mr. Aftab Shamsi. And, currently, his son named as Mr. Ibrahim Shamsi has carried this legacy forward. In recent few years, newly introductory sections provide more enjoyment opportunities for visitors. Just like the Super Space: It is a recreational and the most fantastic indoor playland section. It is specially designed for all age group people.
This Space will let you to all enjoy arcade, it consists of a playground, and you can also play video games over here. Furthermore, from the Xpress Chowpaty section, you will get the most hygienic food. This location has an attractive ambiance where you will get the fun.
New Ticket Rates:
Joyland Lahore Ticket Price 2019:
60

Rupees( Surely this is cheap info for every class)
 Mini Joyland
It is one of the striking sections in Joyland. This section is not just famous because of its mini gold presence, but it has much more attractions present in it. It is one of the beautifully transformed parks which you should check it out. In this section; you will see many restaurants and a snooker club, there is a gaming zone as well as rowboats. This section is packed with a sheer and immense variety of entertainment options.
Timing:
4 PM to till the Midnight (Weekdays)
2 PM to till the Midnight (Weekends, handsome duration)
Joyland Lahore Wristband Price 2019:
450 Rupees

(Its valid for unlimited rides)
Contact Info:
Offers:
With respect to their school package, you will watch a free magic show and you will be given 34 exciting rides. This package includes all thrilling and fun rides to be enjoyed by school and college students. You will get 50% discount on these XD and motion rides.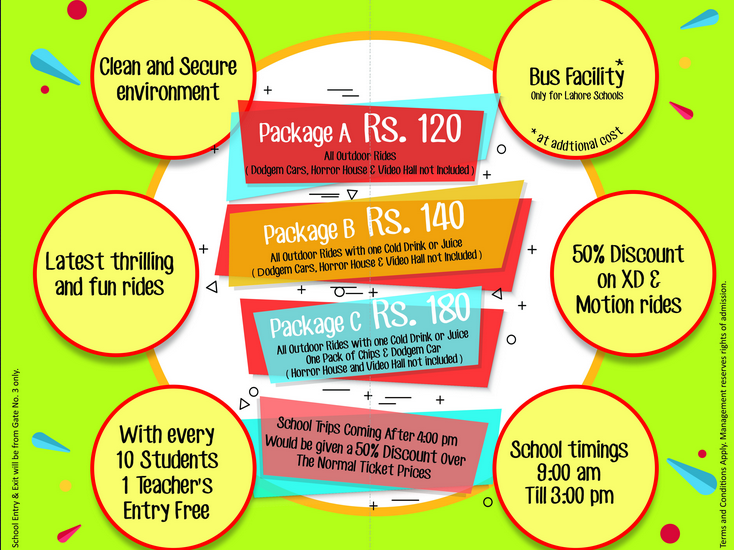 There is a bus facility option which comes in this school and college package. And with every 10th student, 1 teacher entry is free of cost. This school and college package amount ranges from Rs 120, Rs 140 to Rs 180. If any school or college student will be coming after 4:00 pm then 50% discount will be given. This attraction also offers birthday packages and corporate packages.
Apart from this, this park will offer some attractive packages on special occasions. Just like on recent "Mothers Day", they will offer free entry along with a FREE rides voucher. Surely, you will spend quality time after paying the Joyland Lahore Ticket Price 2019 at this place. Moreover, the Wristband will help you to make your trip memorable.