Now zong brings a good service for those people who want to become a part of zong network. Through this service or offer you and your friend can wan a extra balance of rupess 50 and can also win a lucky draw in which you can win 08 smart phone if you brings 5 friends on zong network. Zong is one of the telecom company which is working in Pakistan from last 7 years. It has a large number of customers and the number of customers of zong is around about 2 million. The main reason behind the favorite most company of telecom sector is the zong because it offers good, low cast packages for calls and SMS. To maintain the same reason now zong is going to introduce How to shift zong without changing the code and number for its customers.
People in Pakistan are so worried because of changing or shifting the number from one to another. So keep this need of people in mind telenor has introduce a best service which has ability to shift zong without changing coda and number.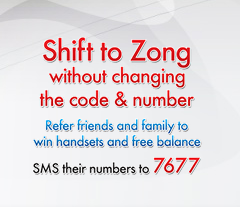 Subscription procedure:
The subscription procedure of the How to shift zong without changing code and number is given below:
SMS your friends other mobile operators numbers to 7677.
Features
By this offer you can bring your family and friends on zong network without changing the code and number. Once you bring your friends and family on zong and upon recharge of rupees 100 you can win rupees 50 balance and your friend can also get balance of 50 rupees.
If you brings 5 more your friends on zong network you will be eligible for the lucky draw and you can win a stylish high end smart phone (08 smart phones).