With every passing day Pakistan government tries his level best to upgrade previous system to online. This time Immigration and Passports department of Ministry of Interior takes had update their all tracking system. SO after this worries are going away because now it's not difficult to understand that how to track Pakistani Passport status online by token number CNIC name as well through SMS service one can also avail this checking service. After this now every tracking process is relay easy because now two options are available. On can get benefit from any of the option whose more detail is also given as:
How to Track Pakistani Passport Status Online?
Online tracking method: This is a really easy method to track your Passport Status but for this one must need a internet services. If one avail internet services then method is really easy.
Start from http://tracking.dgip.gov.pk/, one can get option of making a user name. Create User option is given below to button of Login.
This who already makes their users name they fill the options of User name. And password is given in below box, as one given the correct information one must enter in inner page where
Name
Number
CNIC
Contact Address.
Token No that is of 11 digits
Then again it's necessary that all of this information, if one succeeds to give all of info corrects then his passport status must track.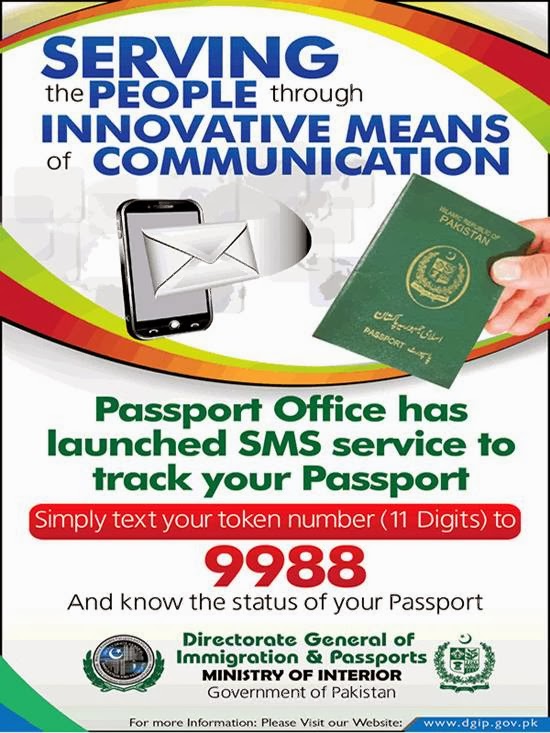 Important Notice:
This service is free of cost; government never charges any rupees to use it. So if you are unaware of using internet and anyone demands rupees then it's all illegal.
If one login successfully then he can check status three times in a day.
Through SMS tracking method:
Tracking your passport status is also really easy through SMS. In this service one just needs to send Token number that is off 11 Digits to a Number 99988. After sending this message one receive a reply message that must contain all info that are wants to require.