Details about the MCB Mobile Wallet Features that is Solution for All Financial Transactions are available at same place. This is socially connected Mobile Wallet that will launch at start of New Year 2014. MCB Lite is a mobile account that connects with Visa Card; this enables one to transact money from one place to another through online banking.  While one can also use it at any ATM to take money and at time of shopping now there is not any need to carry rupees. This MCB mobile wallet is enough for transaction, although this of same kind as UBL's WIZ card but it contains many advance features that is more convenient for customers. Further details of this its features are also given as below.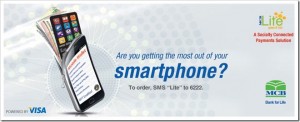 Global Acceptance: In any part of world this Mobile Wallet will doing work so it is worldwide and breaks all limits.
Unlimited Usage: In making transaction there is not any limit of transaction. One can transfer unlimited amount (money) according to desire.
Bank Independent: This service is not announced without any collaboration. This is purely announced by MCB and work only single platform that also covenant for users.
Online Shopping
Utility Bill Payment
Easy transaction from one place to another
Pay mobile Bills through Online
Officials of MCB are seeing excited at time of launching. They claim that this service is really useful to facilitate their customer and remove all questions that are arise in past. They said that they always make banking more fast and easy and this is also a step of this struggle. During its launching a question answer session is also announced. During this session officials face many harsh questions about their services. At that time official make sure that they are always busy in making their services better and better. For them most important thing is their customers so in future they give their answer through their better services.