One more time Telenor has arrived with the offer that is just for its beloved customers. Telenor offers call rates for UK. Well there is no doubt about the fact that Telenor has always offer such services and offers for their patrons that has been appeared to be convenient for their far away family mates as well. And every single time Telenor has proved them as the master of networks by serving such offers that grants the accessibility of less calling rates for the international people. This offer has been just available for the Telenor customers who are allowed to make the calls at lowest rates to their friends in United States. Well Telenor has just arranged this service for its prepaid customers. All the Djuice and Telenor Talkshawk users can get the chance to get closer with their United Kingdom mates through landline numbers at the cost of Rs. 7.99 plus tax for 15 minutes.
Telenor Offers Call Rates for UK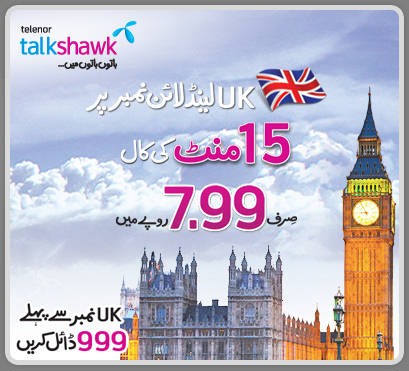 IMPORTANT DETAILS ABOUT OFFER:
Every single that will be taken for 15 minutes will cost the amount of Rs. 7.99 plus tax. It means that if the person makes the call for half an hour then he or she will get deducted with Rs. 14.99 plus tax from the balance.
This offer will be valid till the time limit of 24 hours.
There is no activation and subscription as this offer has been directly availed to all the Dijuice and Talkshawk customers.
This offer can just be used by the prepaid customers.
Before making the calls to UK the customer has to add 999 before the appropriate number.
The users are just allowed to make the calls just on the landline numbers. If they will make the calls to mobile numbers then they will be charged with the normal rates of Telenor.
This offer has been all available for the prepaid customers till limited time scale and can be closed at any instant moment.
Well this was the main details about Telenor offer for UK calls. We are sure that all those people whose beloved ones are living in UK they will be much excited to get connected with this offer. So don't wait any longer and dial to your closed ones now. We are sure that just like every offer of Telenor this offer will also come across as much interesting and thrilling for the patrons.