Warid has one more time arrived in the market for its lovers as Warid offers to win Iphone 5, golden number and Nano SIM. You would be much surprised to listen that Warid has all launched this offer for all such people who will make the use of maximum caller tunes. Isn't it exciting? Well this has not been the first time that Warid has arrived with such thrilling offer. It has been the aim of Warid network that they are all the time engaged in serving their customers with interesting and fun loving offers. This offer has been set for all the prepaid and postpaid customers. The more the customer will get the caller tunes the more will be the chances of winning the Iphone 5, golden number and Nano SIM. In simple words, you will get filled with thrice happiness at one time just through the caller tunes. All the users that have just arrived on Warid network or either those that have switched previously all of them are allowed to get availed with this opportunity. They are just required to set maximum number of calling tunes, dedications and copy tunes as much as they can.
Warid Offers To Win Iphone 5, Golden Number And Nano SIM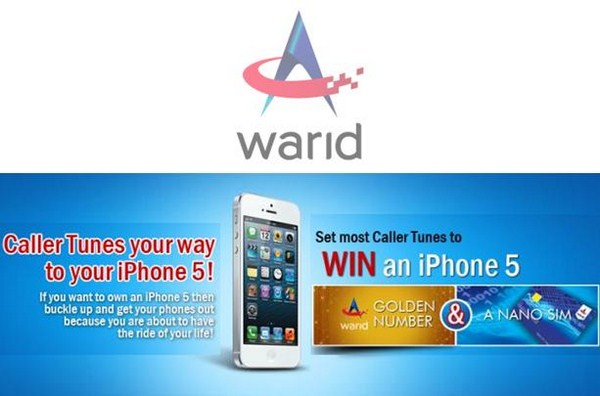 METHOD FOR ACTIVATION:
For getting activated with the service of caller tune just dial 105. This subscription will cost Rs.2 plus tax.
One caller tune will cost Rs. 10 plus tax.
For prepaid customers the daily charges will be Rs. 0.65 included taxes.
For postpaid customers the monthly rates will be Rs. 10 plus tax.
Per minutes charges of the call tune will be Rs. 5 plus tax.
IMPORTANT POINTS FOR OFFER:
This campaign will be existing just for 4 weeks as it will starting on 25th December 2012 and will be ending on 21st January 2013.
Every week just one winner is announced except for the one week that will be proclaiming two winners.
The user can even change ten caller tunes in one day but make sure that they have to get maximum caller tunes in one week for winning Iphone 5.
The winner will be informed through the Warid call center number 00321.
In case of tie between the two winners, the one winner will be selected through the lucky draw.
If the winner didn't receive the winning prize within 15 days then the prize will be given to runner up.