Now again Warids step forward to facilitate their users through introducing Warid Bus Schedule application APP for Daewoo. Any Cellular networks introduce this type of services for first time in Pakistan. Through this they remove the problems of various persons who face difficulty in order to find routes of Daewoo Bus. This is only bus service on which every type of peoples travels. The most important thing is that number of peoples who doing job in different offices also approaches their office through this Bus. The reason behind this is that they always take care of their timing and standard. In this bus travelling is too much easy and comfortable. From a period of time they try to face a problem that their rout will change according to schedule and due to lack of resource they are not able to update the passengers about their latest routes and timing. Now Warid cooperate with them and had done a lot of work to facilitate the passengers. So initially users face difficulty to install this App application. We try to update the whole uses and feature of this application that Warid launch for the Daewoo bus users so keep in touch with this page.
Warid Bus Schedule application APP for Daewoo Details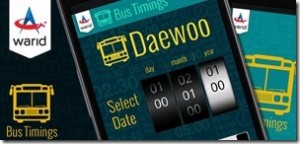 Warid Bus Schedule application APP for Daewoo Details is given there..
Features:
1: The advance and informative feature of this service is that through this you can find contact information of all the terminals that you desired to find.
2: Through this you can also find map on which terminal location are update.
3: Total information about recent timing also updated in this application.
4: It's not difficult to search this application; you can download it from easily.
5: It's really easy to share it though Facebook or Email.
 Although this is one best service that available for all Warid users. But they must use Android based (Version 2.2 and above) mobile phones. So it's necessary that it will available for all type of mobile users and due to this many Warid users also complain that they are fail to get benefit from this offer so hopefully they update application APP of Warid Bus Schedule to all types of mobile users.