In this article we will be highlighting all the details about WorldCall Wireless Broadband packages. But before that we would highlight to give away the review of WorldCall journey. WorldCall Telecom Limited is an Oman Telecommunication Limited Company that has been so far marked to be one of the most reliable and yet the famous telecom communication and multimedia companies in Pakistan. They started their Telecom business voyage in June, 1996 and since that time they have never let down the hopes of their customers. The way WorldCall Limited worked wholeheartedly and dedicatedly worked the main factor of their enormous success heights. They offer finest and superior services and offers to their patrons in local markets. Their best three services are data, entertainment and voice.  In 2008, WorldCall Limited gets connected with Oman Telecommunication Limited for granting a new turn to the communication world and now they have reached the heights of success limits.
WorldCall Wireless Broadband Packages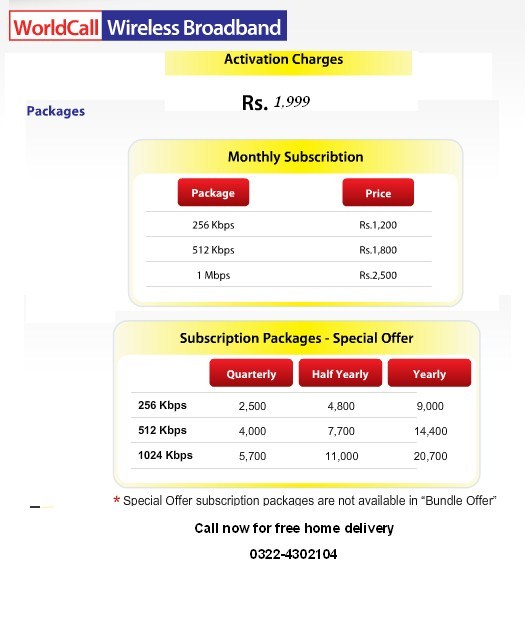 WorldCall has initiated wireless broadband packages for their customers. In the below mentioned article we will be draw out a table that will help you to know the WorldCall Wireless packages and they activation and subscription rates on monthly basis:
WorldCall Wireless Broadband Packages:
| | | |
| --- | --- | --- |
| Package Limits | Monthly Subscription Rates | Charges For Activation |
| 256 kbps | 12,00 | 1,299 |
| 512 kbps | 18,00 | 1,299 |
| 1 kbps | 25,00 | 1,299 |
In addition to it there is also a surprise special offer that has been announced by the WorldCall Wireless. Just scroll the mouse click down and read out the table that will make you know about the packages and their rates for monthly, quarterly and yearly terms and conditions.
WorldCall Wireless Broadband Special Packages:
| | | | |
| --- | --- | --- | --- |
| Package Limitations | Monthly Activation Rates | Quarterly Activation Rates | Yearly Activation Rates |
| 256 kbps | 2,500 | 4,800 | 9,000 |
| 512 kbps | 4,000 | 7,700 | 14,400 |
| 1 kbps | 5,700 | 11,000 | 20,700 |
Well this is surely an exciting offer that has been intended by WorldCall Wireless Broadband. In the table we can clearly witness that all the rates of the packages have been maintain out as much affordable and reasonably rated for the customers. We are sure that by the end of the day it will grab more number of customers for sure. So all the people out there if you are finding this package offer as interesting then just get connected with it right now and enjoy the Broadband Wireless services now. We hope that they will never let down your expectations at all.