Have you ever think about the method to remove smell in thermos or flask? How would you feel if any of your guests feel that stink smell and make you feel ashamed? Thermos or flasks are much used as the drinking devices. People normally fill them with water or fresh fruit juices while going for walk or during exercising. But after sometimes when the thermos are not cleaned properly then they started giving a useless smell that often appears much horrible as well. Now for removing this smell you must read this article because in this article we will be mentioning some of the tips for making the thermos free from all the smells.
Remove Smell In Thermos / Flask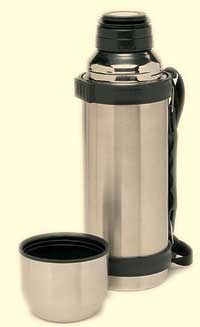 Starting with, we will foremost talk about the use of baking soda. Fill the thermos with the warm water and add baking soda in it. Now close the thermos with the tight lid and let it stay aside for maximum 4 minutes. After sometime when you will clean the thermos with fresh water you will feel some fresh smell that is mot stink at all.
Next we will talk about the use of white vinegar. White vinegar is normally filled with the acidic solution so it will help a lot in removing the smell from the thermos. But this will eventually take many hours for the cleanliness of smell. You are just required to fill the thermos with hot water and white vinegar and place the thermos at one side for almost 4 hours. After four hours you will no longer witness ant form of terrible smell in the flask or thermos.
Furthermore, the cider apple vinegar can also help the person a lot in making their thermos smell removal task much effortless and simpler. Just fill the thermos with the apple vinegar just like all other previous methods and place the thermos at one side for maximum 4 hours. The chemical in the vinegar apple will quickly eliminate the smell forever.
Last we have the drink named as Vodka. This is an alcohol that frequently erased the smell of the thermos in just minimum time scale. Just fill the bottle with Vodka and with the addition of hot water you have to place the thermos at one side for 4 hours. This will allow the smell to get vanished in just least time period for sure and you will no longer feel any hesitation in front of the guest.