ETEA Entry Test 2015 for Engineering Date and Result
Now day arrive for the ETEA entry test 2015 for Engineering Date and Result in KPK province. This Educational testing & Evaluation Agency had announced entry test to get admission in top engineering universities of KPK just like UET Peshawar along with Medical and Dental Colleges of KPK. But the test regards to medical field is different from engineering because both are different type of studies and for both types of studies basic education is also different. For engineering its necessary that one pass intermediate with pre Engg. For medical its necessary that one pass intermediate with specialization of medical. This is one important test and it's compulsory to pass this entry test. In forming final aggregate marks of entry test had major weightage so entry test marks play an important role for getting admission. According to schedule of this ETEA entry test
You can complete your registration to till 13th July 2015.
Entry test will hold on 2 August 2015.
Result of entry test will announce on 3 August 2015.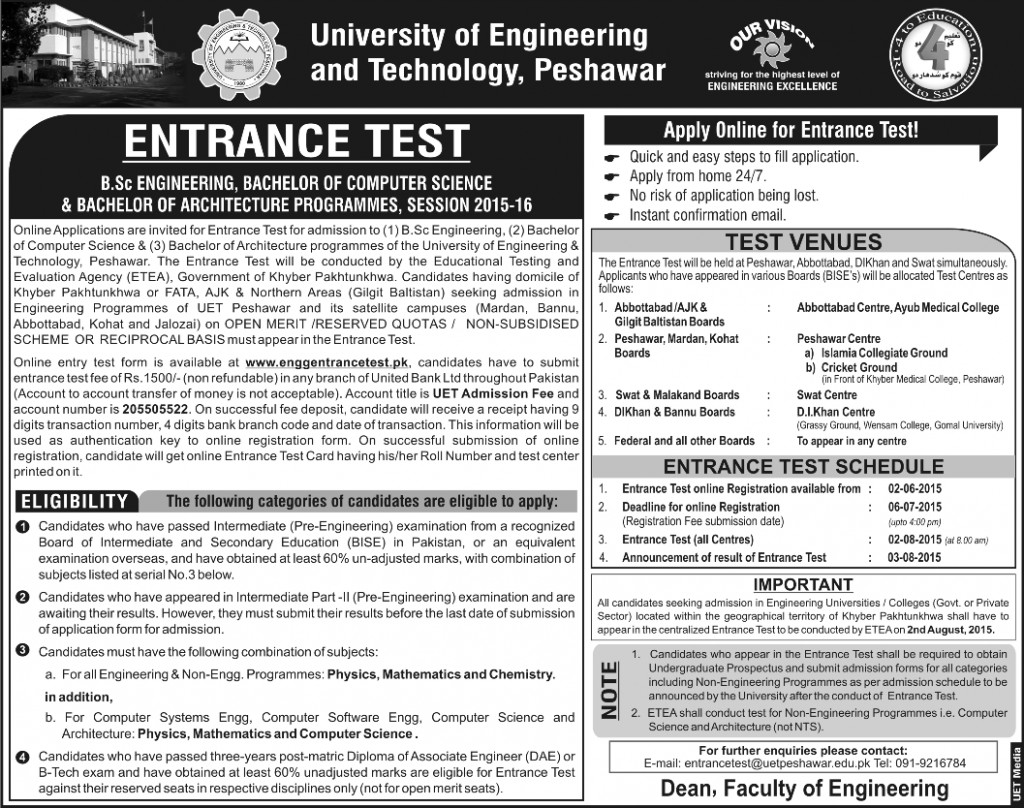 Details of ETEA entry test 2015 for Engineering Date and Result is given there..
This year one can also complete their registration through online system. After completion of registration one is eligible to sit in this exam. While in order to facilitate the students this year organizers of ETEA form various entry test centers. So this step facilitates the students that they appear in this exam in their nearest entry test center. ETEA is the Khyber Pakhtunkhwa Educational testing & Evaluation Agency that establish in November 1998. From that period of time they are responsible to take these entry tests. Moving towards this entry test that take for the admission of engineering studies in UET Peshawar and its other related universities. It will compulsory that one fill whole application in whole aspect in case of mistake or un fill it will not acceptable. So be care full and all the best wishes for all those that are going to give this entry test of ETEA in 2015.