It is a fact that ladies, young women and girls are just massive fans of stylish kurtas! It is these traditional wear that make them to look like a real Pakistani. Now, college girls have all the time preferred these kurtas a top on remaining kinds of dresses. Here, we will try to cover ideas about the new ladies kurta design 2016 2015 trends in Pakistan:
 Longer Length Printed Kurtas
 If we talk about the new ladies kurta design 2015 trends then it is viewed that many of the girls likes to have these in long length. They fuse with shalwars, it can too be paired with trousers, with jeans and also with pants. If you are preferring to have longer in length then just make it sure that it has to be well embellished either with print work or with embroidery work. When we talk about fancy kurtas and they are longer in length then they have too be decorated with fancy kind of dabka work.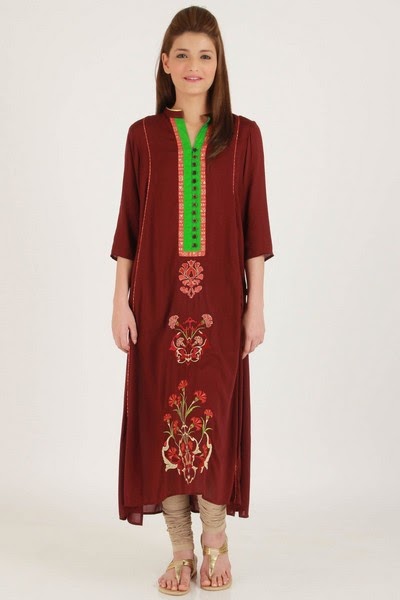 Medium Length Embroidered Kurtas
We have too viewed that many of the girls like to have medium in length so that they might carry them up in a proper way! You can have these kurtas too without dupattas. Get them in the thread work form, lace work get it properly stitched and then we are sure that you will be able to come up with some nicely stitched kurtas.
Short Size Embellished Kurtas
We know also know that many of the young girls make this demand that they want to have such kinds of kurtas that have to be shorter in length so that they can wear them as a top and also they can easily fuse it with jeans, with bell bottoms! That is why, many of the designers have now been coming up with these funky kurtas, we have this label RANG JAA that regularly comes up with these shorter in length.
So, this can be all about new and stylish ladies kurta design 2016 2015 trends in Pakistan! If you want to get start with the wearing of stylish looking ladies then just keep in mind that you have to follow these styling patterns.