Habib bank limited is a private bank in Pakistan. Initially it was government bank but later on it privatizes and now it is working all around the country with a large number of branches in every city. There are a large number of consumers of HBL because it provides good packages to its customers. Now HBL is going to start an interesting package to its customers named as fuel saver package. Now everyone is worried about the higher prices of fuel and everyone wants some relaxation from fuel prices so to keep this thing in mind HBL is giving 2000 rupees save package per month. People can take fuel on HBL credit card and HBL will give 2000 rupees every month. This card is use as other credit card but payment through this card give you discount.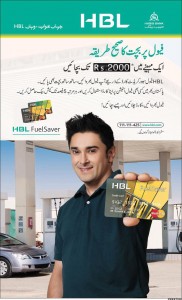 This offer is announce couple of days ago so till process or procedure to get new card is not announced as it will announce it must update here on this page.
"This offer is all the people whether they are HBL customers or not. This is also for the new customers of the HBL" Said Mr. Nouman the CEO and also the president of the HBL on last week after presiding an official meeting with others members.
This is one best offer in this high pricing of petrol and other fuels. All those that use vehicle in regular can get benefit from this offer. While it's also a good step to give a tough competition to other competitors because this is something new that is not offered by many of banks. Hopefully they get positive results from this offer and make sure to get loyalty of their users.