Local weddings of this country are always filled with so many colors and shades. This event is celebrated for about 3 to 4 days. And among days first is the bride to be sit for her mayon. The trend to organize this day has followed from many years. Every participant celebrates it with much excitement. They wear beautiful dresses of Yellow and Pink color on this ubtan day; dances are prepared. It is all girls event. So what kinds of mayon dresses you should go for Pakistani wedding in 2017? We will tell you from this piece of writing and pictures: Both, Groom and Bride separately organize this ceremony at their places. So that is our tradition and we can not forget this. Fashion is always circulating in different direction, that is why girls want to get some innovative designs.
First we will talk about the color scheme. For this event, you can have Orange, Yellow, Green and Pink in color and tone dresses. Wear bright dresses and make a contrast of your outfits. Do not wear single colored dress. If your shirt is of Pink color then wear yellow dupatta with it.
Basically it is a colorful event; this day marks the colorful celebration so you should wear bright and colorful dresses.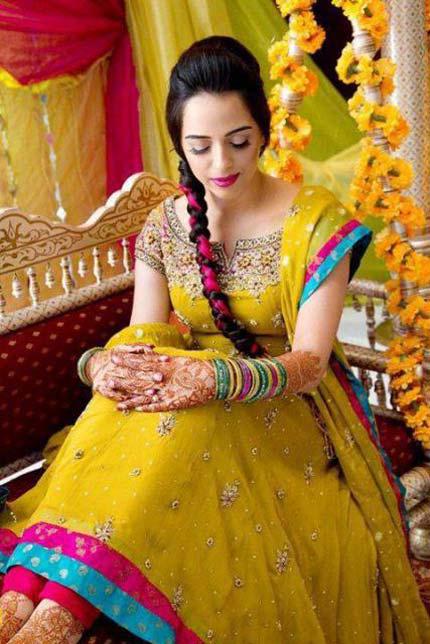 You know about the colors of your dress. Moving on to the styling area of your outfit, you can wear gotta work shalwar kameez. Have tilla work frocks, you can wear straight shirts having little amount of sitara work in it. If one think that cost of outfit is increasing then you can have gotta laces as well that much decorated and prominent as you can.
To make your dress more noticeable, you can wear pirandas and khussas with them. All of these items make your mayon dresses complete attire in 2017 for Pakistani ladies. Because of its yellow and pink colors some people mix this day with Mehndi, but originally this is entirely different one.
Have a look at the pictures for this subjected day dresses. If you mayon is coming up and you are confused that what is more suitable, consult some designer, he might give you a suitable idea. So make all the events of your wedding as much rocking and special as you can.