Samsung is counted as one of the leading and well renowned mobile brands all over the world. Every time they have won the hearts of millions of people by highlighting their captivating and mesmerizing mobile models. They have all the time tried to put forward something fresh and unique for the public and that is the major ground that this brand has made a special place in the market. Just like their every introduced model this time they have once again hit the market with E2252. Freshly, Samsung has launched their dual sim mobile E2252. This mobile is extremely stylish and chic and is over flowed with many exciting and yet interesting applications.  Moreover, the body of the mobile is immensely trendy looking and has been kept quite easily affordable bye very person at the price of just Rs. 5,500. In this article we are discussing some of the salient and prominent features of Samsung Dual Sim E2252.
Samsung Dual Sim Mobile E2252 Specifications, Price In Pakistan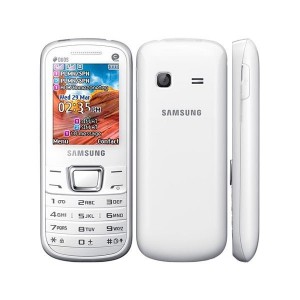 SPECIFICATIONS OF SAMSUNG DUAL SIM E2252:
                                                 Let us give a quick over look at some of the fascinating facts about the SAMSUNG E2252 dual sim mobile.
1. MEMORY SPECIFICATION:
                                                 The actual memory storage of the mobile is up to 32 GB and 20 MB.
 2. CONNECTIVITY SPECIFICATION:
                                                             It can easily get in touch with the Bluetooth and USB facility at a huge distance stand as well.
 3. DISPLAY SPECIFICATION:
                                             It can clearly display up the image and video of maximum 240/320 pixels and almost 2.0 inches medium.
 4. FREQUENCY SPECIFICATION:
                     As we discussed that this mobile model comprise two sim therefore both the sim has the equal capability of frequency of about 800 to 1500 MHZ.
 5. COLOR SPECIFICATION:
                     Apart from being the new model Samsung has also introduced it in two stunning colors including black and grey.
 6. ENTERTAINMENT SPECIFICATION:
                            The mobile is fully loaded with FM radio, games, JAVA, audio system and MP3 and it has all the fun that is needed by every person.
 7. MESSAGING SPECIFICATION:
                     In view of the messaging system then it mostly involve the MMS and SMS system in much simple and effortless manner.
 8. CAMERA SPECIFICATION:
                       The camera mode of the mobile includes VGA and video facility too.
 9. OTHER SPECIFICATIONS:
                  Furthermore, this E2252 dual sim also accompanies the speaker phone services as well.
PRICE OF SAMSUNG E2252 MOBILE IN PAKISTAN:
                                               When we look upon the price range then it is quite easy to purchase at the rate of just Rs. 5,500.
So all the Samsung lovers the E2252 has just hit the market so rush now and grab this dazzling looking mobile phone now.