Pakistan military (Army, Navy) plays an integral part in the protection of the country.This is most disciplined institute in this country, according to ranks every one is responsible to perform duties. While ranks are also defined the  hierarchy, although these are different but perform same type of duties. Here a comparison in 2016 between Pakistan Navy Ranks Vs Pakistan Army Ranks according to Badges are cover, Salary or Pay scale are also set according to them.  Army is the largest branch of Pakistan defense and armed forces. This is the most powerful and organized foundation of the state and always played an important role in protecting and preserving the social status, assets, constitutional rights and in economic development of the country. Pakistan army always played a key role in combining the whole nation together, always promotes a feeling of nationhood.
With the passage of time it has taken control of Pakistan social, political and economic resources. Pakistan army is now strong enough to secure the national interests of Pakistan and also serves as a defender of sovereignty and identity of the nation. Furthermore, Pakistan army has also taken the responsibility for protecting the civilian.
"Ranks and Badges Comparison"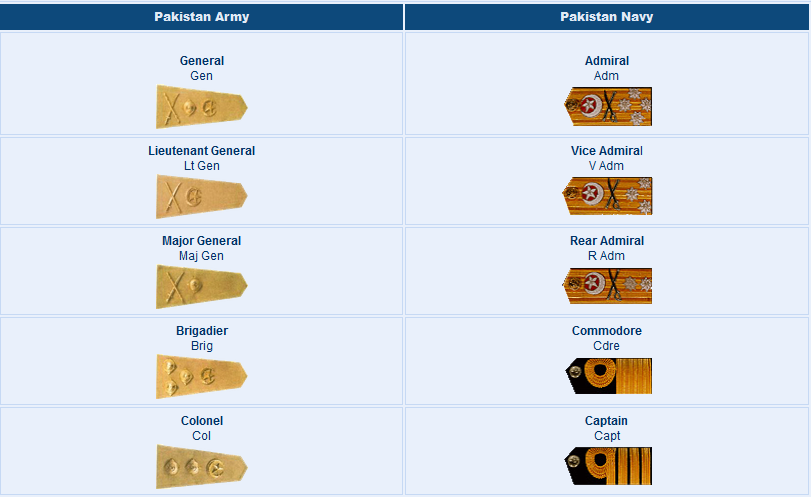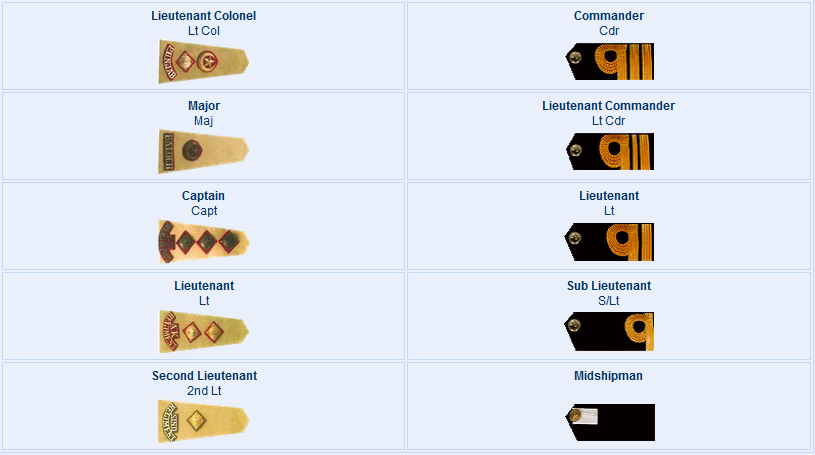 Pakistan navy is another important instrument of military. The Pakistan navy is responsible for the custody of the territorial waters, Sea Lines of Communications and the coastline of the country. Navy forces sometimes are also used to guard the marine environment and fishers, rescue and research, assisting to civil power and for many other developmental and humanitarian projects. Recently Pakistan navy is also appointed for the protection of sea water from pollution. It is assumed that the most vital missions of Pakistan navy are the policing function which is related to protect the national sovereignty, a fraction of military function and for the diplomatic function.
"Pay Scale According to Rank"
| | |
| --- | --- |
|                                    Rank |                    Pay Scale |
| Field Marshal | Apex scale |
| General | Apex scale |
| Lieutenant General | 22 |
| Major General | 21 |
| Brigadier | 20 |
| Colonel | 19 |
| Lieutenant Colonel | 18 |
| Major | 18 |
| Captain | 17 |
| Lieutenant | 17 |
| 2nd Lieutenant | 17 |
| Subedar Major | 16 |
| Subedar | 15 |
| Naib Subedar | 14 |
| Battalion Havaldar Major | 12 |
| Battalion Qaurtermaster Havaldar | 10 |
| Company Havaldar Major | 9 |
| Havaldar | 8 |
| Naik | 7 |
| Lance Naik | 6 |
| Soldier | 5 |
Next thing is Salary then this also varies according to ranks, while for these forces at remain same. These salaries are not available online at any official website so not possible to update without any authentic source. We will also wait for the update of related department that when they will decide to reveal it.