Allama Iqbal Open University Admission 2013 has all been all announced for the students and desirable candidates. This admission procedure will be starting from 10th December 2012. The admission will be commenced for the programs of MS, Mphil, MSC and PhD. All the students who are wish to enrich themselves with the degree of Allama Iqbal Open University they can submit their admission forums at AIOU Office before 14th January 2013. The fee structure for the admission forum along with the prospectus will be Rs. 500. During the admission announcement Director General of AIOU has stated that they are offering the programs of PhD and Mphil in diverse subjects. If the students are applying for the PhD program then they have to get specialized in one subject as being their major or main course.
Allama Iqbal Open University Admission 2013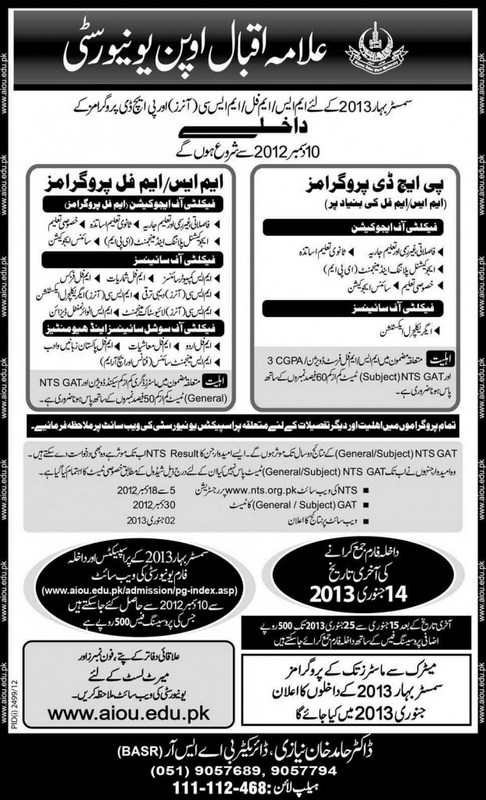 COURSES OFFERED IN PHD:
Urdu
Islamic Studies
Iqbal Studies
Chemistry
Physics
Pakistan Literature
Pushto
Balochi
Punjabi
Sindhi
Siraiki
Brahu
COURSES OFFERED IN MPHIL:
Mass Communication
Islamic Studies
Iqbal Studies
Arabic
Chemistry
IMPORTANCE OF NTS TEST:
All the students who are applying for the programs for the admission in AIOU they are required to pass the GAT test by NTS that will rest for two years of time period. If in case the students have never appeared in GAT test he or she has to take part in the National Testing Service that will be arranges by University. If you have passed the GAT NTS test then you are required to submit the copy of marks along with the submission forum. The schedule for the GAT test has been given below:
The registration date for the GAT test is from 5th December 2012 till 8th December 2012.
The test will be carried out on 30th December 2012.
The results of the test will be highlighted in 2nd January 2013.
It is much necessary for the student to pass this test of GAT for getting admission in PhD, MSC or Mphil.
CONTACT DETAILS:
Well on the whole of it if you are in the favor to get any details about the GAT test or any facts regarding the admission criteria then you can get in touch with the admission office through the below mentioned contact numbers and helpline number:
Call: 051-9057151, 051-9057152
Help Line: (051) 111-112-468