Some of the medical colleges are working under the supervision of the Pakistan army from where the civilians also study. That's why CMH Medical College Lahore fee structure 2023 is always kept the intentions of parents and the individuals who want to join their MBBS or BDS degree program. Furthermore, the selection will clear the Army Medical College Lahore,'s next badge candidates. Pakistan army has maintained the level of education and when they enrolled in their next sessions then firstly they ensure that the selected one will fulfill their standards.
CMH Medical College Lahore Fee Structure 2023:
The major pillars of this Army Medical College are MBBS and BDS. So those who have recently cleared the PMC test, have a chance to be part. But, one of the noticeable concerns is whether you can afford the CMH Medical College Lahore fee structure 2023. For this, write out the stats and first arrange this amount.
CMH Medical College Lahore MBBS Fee Structure 2023:
In the private sector, the criteria of the fee are very high but if you have taken the highest marks in FSe premedical and PMC as well then there is an option of a scholarship. But, their terms are very strict that are not easy to full fill all the time. Moreover, the MBBS fee structure in 2023 of the CMH Lahore medical is:
Total Amount for 5 Years MBSS Degree is: 9,575,000 Rupees that are further integrated as:
| | | | | | |
| --- | --- | --- | --- | --- | --- |
| | 1st Year | 2nd Year | 3rd Year | 4th Year | 5th Year |
| CMH Lahore Medical College MBSS Fee Structure | 1,760,500 Rupees (Include Admission Dues) | 1,805,000 Rupees | 1,910,000 Rupees | 2,000,000 Rupees | 2,100,000 Rupees |
Note: All upper and below for MBBS and BDS are approximate fees that can replace at anytime.
CMH Lahore Medical College Fee Structure for BDS 2023:
This is the era of competition and everyone wants quality education in a peaceful environment. And for this, you need to pay a good amount as well. As BDS is a four-year degree that's why it's total fee is less than the MBBS.  Meanwhile, the other charges are the same as the above in the table.
Lum Sum Fee amount for CMH Medical College Lahore BDS program is: 7,475,000 Rupees
| | | | |
| --- | --- | --- | --- |
| BDS First Year Total Expense | Second (2nd) Year | Third (3rd) Year | Fourth(4th) Year |
| 1,749,000 Rupees | 1,799,000 Rupees | 1,896,000 Rupees | 1,995,000 Rupees |
Till now, after completing the program MBBA and BDS many of the students pursue their careers in Pakistan while many of these students go into the private sector and serve all civil people.
As already elaborated in detail that this medical college that is running under the officials of the Army is very near to declaring their lists because for the last few months their whole admission process was in pipeline. As this institute is much more popular regards discipline, so probably every applicant must full fill their entire criteria.
As per the role process, their test has been completed, and after this official has called up an application form. After these marks of FSC and test will together decide; that who are the lucky applicants to be part of this platform. Moreover, other important stuff is also clearly highlighted.
The date of the CMH Army Medical College Lahore admission has a bit changed this year. So, will share it soon.
1st: Roughly Oct ( Exact will Declare Soon)
2nd: Roughly Oct
Note: As is clearly mentioned in below official notice, CMH Army Medical College Lahore is affiliated with AM College Rawalpindi. But as its self-working institute, that is why they declare its own schedule.
Last Year Admission Schedule: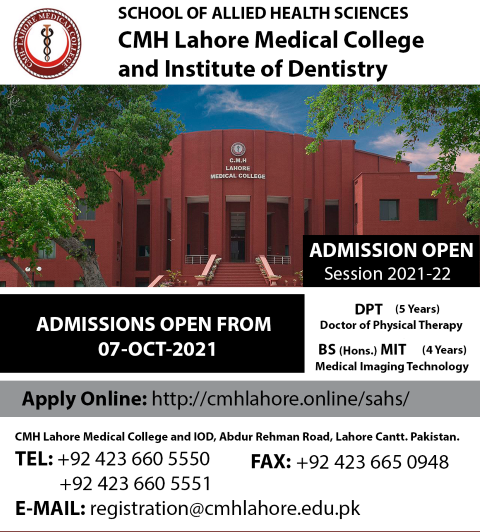 Approximately a decade ago this platform was initiated to begin its work, and from that, they only propose to serve the locals.
| | |
| --- | --- |
| Event | Date |
| Phone Number | 042-36605550 and the 042-36605551 |
| Email Address | |
Undoubtedly they attained a lot, and still, they will work for more betterment. Again discipline is one major thing that plays a major role in its rapid growth. This is the reason that their doctors are better professionals in the field. So now if you have scored good marks on the test, then for sure you have a chance to be part of this institute.
It's part of your good luck, that you will continue your studies under the supervision of the best staff. Yes, CMH Medical College Lahore fee structure 2023 is stated and students can see her name easily. After the fee, those students will eligible who meet the criteria other than they cannon a part of this army college.