In presence of advance billing options, everyone want to shift themselves online. So, how to get PTCL Bill on Email? and for this check PTCL e bill Registration is compulsory. This is an free service for PTCL users who already face many problems in this respect. So don't pay extra amount of surcharge ever after availing this service. Actually due to manual system, customers face many problems in managing their bills and ultimately they get the news that their Line is discontinue. So customer feels embarrassment in this way. Now PTCL find a solution of such thing.
How to Get PTCL Bill on Email?
The best possible solution to get  the PTCL bill on email is PTCL e bill. There are couple of more benefits or advantages of this services. Hopefully, many new things will also add in the future time. So, first complete the procedure.
PTCL e bill Registration:
From the form, one will check that 8 requirements are needed to fill the registration page. Among these options, their is Email id box that is must to enter. Few are also the secondary option that are not must
Furthermore, check the form and be careful in giving the data because a wrong information will waste the purpose of this service. While, take the: Form So, be conscious in the entire processing time.
Yes, PTCL free service known as e-billing. Now with this service you can get your bill before the actual bill and know what is the exact amount that is outstanding against your PTCL account.  This will also remember you to pay the bill at time.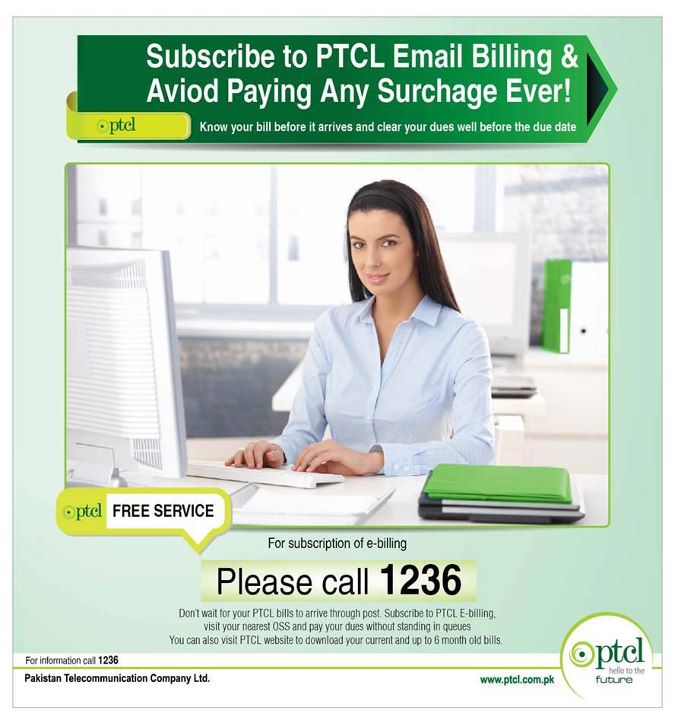 Through this service every month your Bill can access you directly to your inbox with any further cost. So don't wait that bills to arrive through postal way.
What you actually about this service. Is it beneficial for you, say something about it through comment section. Many other online solutions of existing old problems are also on their way to make the overall system modernize. So, enjoys your net surfing with them.