A solid education base can help the kid throughout his life. In Lahore, divisional public school model town is itself a big name from beginning to till college time education. Whereas, DPS School Lahore fee structure 2023 is equally suitable for every class kid. This is also a school where you can see rich families and other kids together. Though an increment is adding up in their annual fees every year and as this is an oldest school so it increased a most. But, by comparing it with the other same level school, the difference will tell its suitability.
DPS School Lahore Fee Structure 2023:
Of the model town campus, DPS School Lahore fee structure 2023 is from KG to 12th class. By seeing the value of Olevel, they also add up in their school. We split up the fee table into primary, middle and higher sections.
DPS School Model Town Lahore KG to Class 5 Fees 2023:
The same fee is applying from KG to Class 5 in DPS School model town Lahore. They have also parted it into three fees type with following the class levels. These are:
| | |
| --- | --- |
| Class | Fee (Appox.) |
| KG | 5,910 Rupees |
| Class 1 to Class 5 | 5,950 Rupees |
From this to upper classes:
Divisional Public School Lahore Fee Structure for Class 6 to Class 10:
Mostly these classes have those students who were promoted from their previous classes of DPS Lahore. But, they increased fees in different portions whose are.
| | |
| --- | --- |
| Classes | Fee (Appox.) |
| From Class 6 to Class 8 | 6,100 Rupees |
| Class 9 and 10 | 6,270 Rupees |
After insisting of their students, they cover the college and O level studies too in such fees that might surprise you.
| | |
| --- | --- |
| Classes | Fee (Appox.) |
| For Class 11 and 12 | 7,160 Rupees |
| O level | 9,880 Rupees |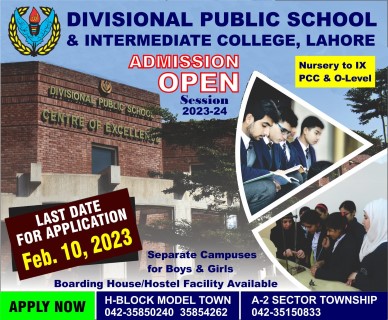 Whole DPS School Lahore fee structure 2023 for every class shows their control on it. They also divide the strength in multiple sections and all are treated equal with same kind of tutoring and plans. Their basic preference is to make the kids conceptually strong that is need of the foundation.