A wedding decorators is always important for this function, they are always responsible to for makes a wedding more beautiful. Now various companies start working to give their services among these few best wedding decorators in Karachi and Lahore are available. Starts from an overview of their work, then these decorators are working two aspects. One is that they deal with you to organize the entire wedding event. In this situation they cover whole wedding days from the day of Mayon to Walima, they decorate different on every day according to nature of function. This is a complete deal in which your room decoration as well car and all other things are include. Moving towards the second option through which one deal only barat and walima day or some time mehndi is also includes in it. This is not a complete package due to which decoration of car and special decoration of room is separate to deal. Although they decorate room in simple way with all house but if one wants to add some more things then separate charges are detected. So it all depends on your choice that which deals is suit for you; further in Karachi and Lahore names and contact numbers of best wedding decorators are give as:
Best Wedding Decorators in Karachi: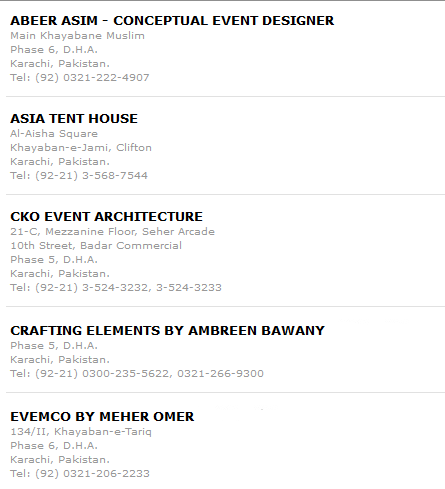 Zoreed Raza
SEMS
IRIS
IWPP By Faiza Khan
PRODUCTION 021
Best Wedding Decorators in Lahore:
These all decorators are professionally trained so without any worry they had done every work perfectly. While during decoration they are also aware from matching that makes a wedding house more attractive. Moving towards some benefits of these decorators then major one is every team member of these decorators are professionally trained so they know ever latest trend. Second they deal with every thing so one must give time to wedding without any worry. Because this is a time when time is quite short and some burden going down from shoulders then one give a proper time to wedding. Further those who live in Karachi or Lahore they must try any of Best wedding decorators in this list soon he must enjoy this event with better decoration.