Again, chances are that FC College Lahore fee structure 2023 is increasing for every group covering FA FSC ICOM and ICS or even for BS Hons. No doubt, this is a college where students learn something in modern way. At this level, students must need to aware that if they have to be successful in their future then they must have to accept the all challenges of life. They must be responsible for the type of studying they adopt in higher education. So, the institute is more important than any other thing, for this FC Lahore is best.
FC College Lahore Fee Structure 2023:
After a time of wait, FC College Lahore fee structure 2023 now exists for all programs like fsc and Bs hons programs. Further, take and read the complete details of the fee.
The first major structure of fee is for the intermediate and this has further four programs. There is further bit dissimilarity in the morning and evening fee.  The table will also elaborate the further detail of it too.
FC College Fee Structure for Fsc 2023:
For the morning, the fee structure of FC College is "189,000 Rupees" and for the afternoon, the fee is "166,000 Rupees". Meanwhile, admission, security, and other mixed dues are charged separately.
| | |
| --- | --- |
| Fsc Fee | 189,000 Rupees |
| Other Groups Fee like for ICS and ICOM | 176,000 Rupees |
| FA Fee | 174,000/ Rupees |
Note: One can pay this amount in four(4) installments that are divided equally. For sure, through this, parents can submit the fee with a bit of relaxation.
One more is:
FC College Lahore BS Hons Fee Structure 2023:
At the uni level, they also worked on skills in different departments that justify the FC College Lahore BS Hons fee structure 2023. With education, they also develop the practical work too. This platform has been performing its responsibilities in this field for decades.
| | | |
| --- | --- | --- |
| Program   | Per Semester Fee | Per Credit Charges |
| BS(Hons) | 186,000 Rupees | 12,000 Rupees |
| BS(Comp Sciences) | 241,000 Rupees | 15,548 Rupees |
| BS(Bio Technology) | 210,500 Rupees | 13,581 Rupees |
| BS(In Business) | 272,500 Rupees | 17,581 Rupees |
One can make the idea about its standard with this thing that is recognized as one of the best institutes in the subcontinent. It has an excellent academic record that why it is truly known about education.
FC College Lahore Mphil, Master and MBA Fee Structure is:
| | |
| --- | --- |
| Program   | Annual Fee(Approx.) |
| MPHIL | 180,000 Rupees |
| MBA | 555,000 Rupees |
| MS(Psychology) | 333,000 Rupees |
| MS(CS) | 275,000 Rupees |
In few years, they built a great reputation for providing outstations and outstanding education for students in a comfortable and innovative environment. This is because of their specific rules and administrative for the best result.

Call on the below number to get the latest info.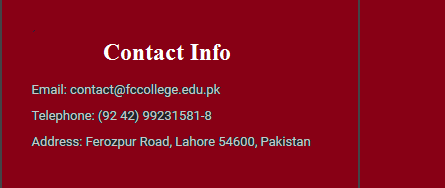 In the beginning days in college, a student imagines having a new friend, a new direction, and a good time and gaining useful knowledge. But after some time, they came to know that college life has its own struggles and challenges because of the huge expectations and demands they must be laid on the significance of education.
So if your name get in their selection, then tried best to manage FC College Lahore fee structure 2023 for either fsc or in the bs hons. In the future, these class studies matter more than any other class. So this work must be paid off in the future so be loyal to your studies.