After a change in the system, lat test is now must by the HEC for getting Law education. Recently, LAT Test registration has opened for new sessions, and HEC LAT test date 2023 with other schedule is also let out. In addition, this  covered the basics of law and if you get 50% marks then you will be eligible for admission otherwise wait for the next attempt. Further, this will only come one or two times in a year that's why take it serious and get some tips before final appearance.
HEC LAT Test Date 2023
The exact HEC LAT test date 2023 is "9 April" and organizers are also busy at the moment to held it in better way. An increasing number of candidates trend also put some extra burden regarding registration to till test time.
HEC LAT Test Schedule 2023
As per role, Higher Education Commission is totally manage the LAT test schedule 2023 which also point out he last date for registration and test too. Apart from this, they split up the test into portions that is also helpful too.
Last Date of Registration: 27 March 2023 (Its seems a final)
HEC LAT Test Registration 2023:
This is the second LAT test of this year whom registration is in process. Few following tips also helped you that how to register for it. Those who knows about account creation easily carry on furter.
Open the official webpage of HEC "https://etc.hec.gov.pk/#/login".
Firstly Create an account.
Give the complete info about academic detail and personal info.
Fill out the complete application form and then submit it.
Latest Announcement that has much related to 2023 test: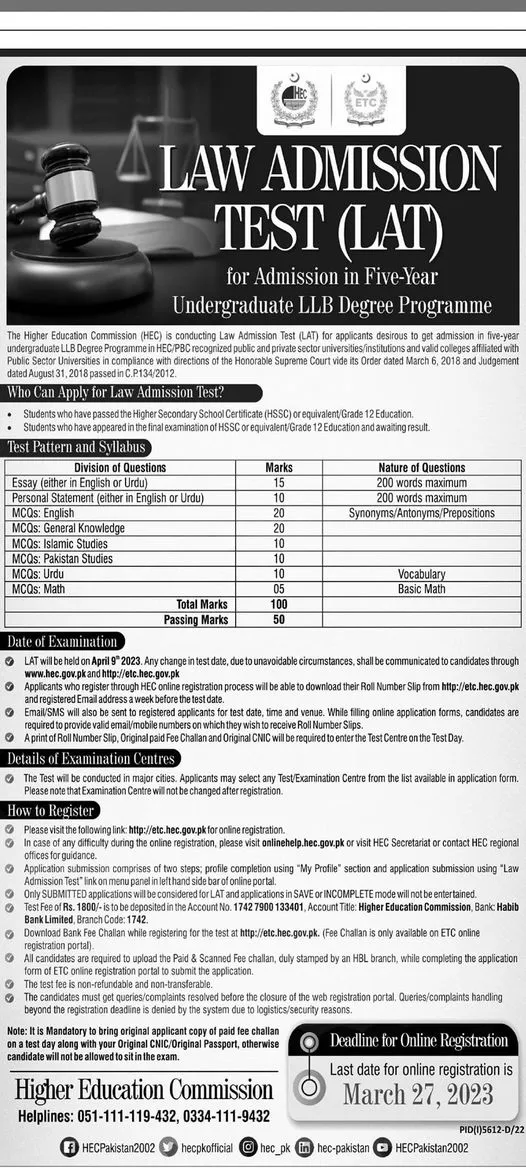 After completing the registration process HEC will verify giving details and then issue the roll number slip to the candidates. On the other hand, your complete details regarding the test like the test date, venue, and timing along with the seat number will be on your roll number slip. Well, some people said the LAT test date 2023 announcement is completely in doubt because when HEC will issue the test date then it's latest schedule will properly design for the students.