Golden chance for fresh graduates that now they apply PTCL One Year Internship Program 2013 with reasonable Salary (Stipend) Package. Details about Registration Online, application form and other important aspects are also discussed here. Through this internship program one can learn better skills at start of career. While this is a paid internship for which 15 thousands rupees are given to every intern in form of stipend. This is one best stipend or salary package that gives to any intern at beginning because for every company it's really difficult to give such money for any intern. This is best learning chance that is beneficial for future career. Further details about education, registration procedure and about test date is given as below.
Apply PTCL One Year Internship Program 2013 Salary (Stipend) Package, Registration Online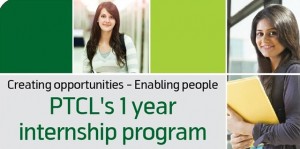 Eligibility Criteria for PTCL One Year Internship Program 2013:
This internship program is offered for all graduates that complete graduation in fields given as below.
Information Technology
Business Administration
Finance & Accounting
Engineers
This time diploma holders also get chance for this internships. They have not any good platform through which they start their career. Although they are complete engineers but due to lack of resources they left back. This time they also get chance for internship in their related field.
For all graduates it's all necessary that they get minimum 2.7 CGPA or 70 perc marks in their whole graduations.
This time again diploma holders get relaxation and for them 60 percent marks are necessary.
This internship program is specified for fresh graduates so age limit is also announced that is 18 to 25 years.
Salary (Stipend) Package:
The Salary (Stipend) Package for this one year internship program is fifteen thousand rupees.
Last Date for Registration Online:
Last date for registration online is 23 October 2013. It's necessary that one must apply online because they also conduct a test that is necessary to pass. In case of failure one is rejected from this internship programs although he fulfill other requirements.
For apply online click here