Details about Govt announce PM Youth Training Scheme for Graduates that is a part of Prime Minister Six schemes is given there. Present government announces these schemes to secure the future of their youth through internships. If youth is busy in their work then automatically many wrong things in society will minimize. Most important when pillars of any country that is youth get their responsibility then automatically nation will progress. If one sees the detail of this scheme then basic aim behind this scheme is to train those graduates that are quite free after completion of their degree. Due to unavailability of jobs in market they never get chance to get a job. This scheme provides a chance for them to doing internships is various private sectors. Through this scheme they get stipend that is enough to fulfill their basic needs. Further details about eligibility criteria and other important points are also given as below.
Govt announce PM Youth Training Scheme for Youth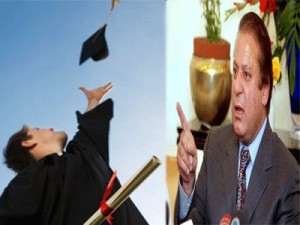 Eligibility Criteria:
It's necessary that students complete their sixteen year education from an educational institute that must recognized from HEC are applying for this scheme. While age limit is 25 years and relaxation is announced for all those candidates that belongs from less developed areas.
Students from any part of Pakistan can get benefit from this scheme.
Other Details of PM Youth Training scheme:
This scheme is announce for 5000 candidates that complete their education.
Stipend amount for each intern in 1000 rupees that is quite reasonable for internes.
An amount of 4 billion rupees are announced from budget for this training scheme.
Another beauty of this scheme is that government also deals with top private companies that they provide opportunity of internships for fresh graduate. This experience will become helpful in their career because on the bases of this internship that had greater chance to gte job. So never miss this opportunity of PM Youth Training scheme and must apply for it.