There are many lucky people who has decided to perform the obligation of Hajj and they must need info of Hajj Price in Pakistan 2022 Government, Private and other expenses details. There are only one govt Hajj packages which is  given for the pilgrims. So there are very limited seats, you have to book urgently. Maybe, executive and normal packages are available for both type of people. If you want to to stand among the people who gathers to Khana Kaaba for performing Hajj, get ready for it. Despite of its expenses, if anyone afford then he must need to perform this duty.
Hajj Price in Pakistan 2022 Government:
Because of various issues, government is still nervous to confirm the Hajj Price in Pakistan 2022 that's why they reveal a estimated cost and token amount. Moreover, the important dates like for the submission of token fee and other are also issued.
| | |
| --- | --- |
| Hajj Price from Pakistan 2022 | In between 7 Lac Rupees to 10 Lac Rupees |
Another rumored option is:
Private Hajj Price in Pakistan 2022:
After seeing the confusion of govt, the Private Hajj Price in Pakistan is also doubtful. The top travel agents are yet avoiding to release any of stats. Meanwhile, after seeing the applicants, maybe govt will not allow the private option.
Imp Date:
Hajj Online Registration is allowed from: 1 May to 13 May
The registration amount and Token money will receive from: 9 to 13 May(Banks name are in the chart)
Hajj Expenses from Pakistan 2022:
Overall, the expenses of Hajj from Pakistan has increased in 2022. And as govt, the reason of it is the increase of taxes ratio and other service expenses that applied in Saudi Arabia. Furthermore, these expenses are:
Starting from 7 Lac and maximum is 10 Lac(Maybe, these will change)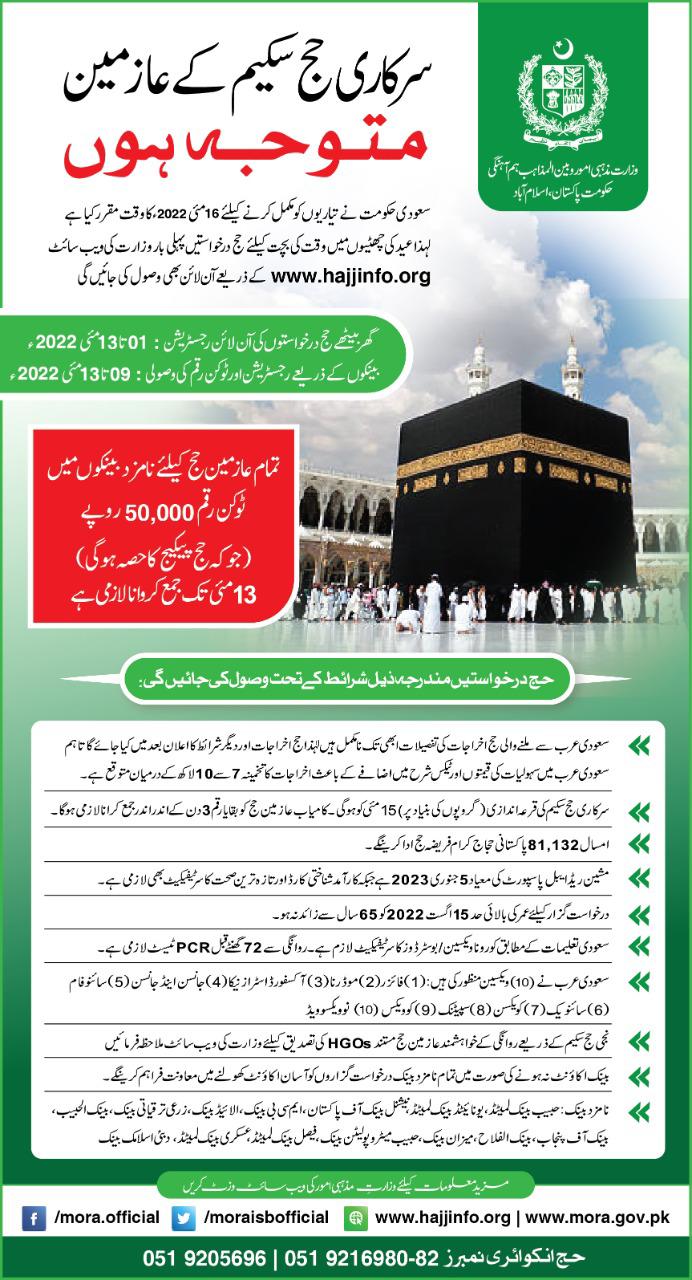 Of course, Hajj is in the main pillars of Islam and it is obligation on every Muslim who can manage it expenses. So govt has arranged everything from the ticketing and booking. But, it's also their responbility that they reduce the expenses or Hajj Price in or Pakistan 2022 that an middle class can also pay. It's dream and also religious duty of every Muslim but many of them are missing it because the high expenses. So, its humble request to govt that they make sure to arrange it in minimum expenses. Thank u.