Inaam Ghar or Inam Ghar is a Geo TV's presented television game show in Pakistan. This show telecast from Karachi center and hosted by a very popular personality Aamir Liaquat Hussain. He is a Pakistani politician, broadcaster, poet, and religious personality.He has been the host of the TV program Aalim Aur Aalam on ARY Digital since 6 August 2010 previously appearing on Geo News hosting the show Aalim Online. Dr Aamir Liaquat Hussain has a God gifted melodious voice and he often recites naat in his sweet voice at Tv shows. Geo TV telecast various shows and after the success of Amaan Ramazan and now Geo TV presents a new reality show Inaam Ghar which is consists of 3 hours. Inaam Ghar is basically a game show and during this show people want precious gifts like motor bikes, cars jewellery and other home use accessories. This is a family show and every person is feel happiness to be a part of this show and 200 personas participate in its every episode.
Inaam Ghar Passes and Registration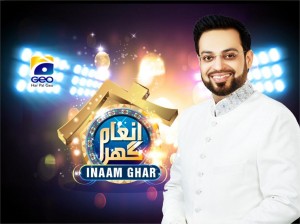 The Process of Inaam Ghar Passes and Registration:
IG [space] NAME [space] CITY NAME [space] CNIC AND SEND SMS TO 436
After getting registration one can get conformational sms at then at their count they get chance for participation.
If you want to know more information about Inaam Ghar you can search out this address here we mention below.
For more detail visit:https://www.facebook.com/InaamGhar
Inaam Ghar telecast on Geo TV at Thursday and Saturday at 07:30 pm and this show can be seen every age group of persons because there is must something for every one. Inaam Ghar invitations can not be purchased trough any place and one can only be received through sending messages. This right place where one can get specific information about getting Inaam Ghar Passes and Registration, so keep in touch with this page.