Another initiative by new government in Khyber Pakhtunkhwa in form of Insaf card scheme 2015 by PTI KPK Govt for this now registration form are start and by following a proper process package for Sasta Aata Ghee is available for all needy one in this province of Pakistan. This scheme must give lot of benefits to a class that is too much needy and always looking forward for government support. Through this now two basic necessities are given with discounted rates. Before going to registration and process to get Sasta Aata and Ghee it's also important to introduce another partner that plays a role in this scheme, this is easypaisa that decides to gives their distribution to this society. For this initially they deices for collaboration with KPK through which some basic needs of deserved peoples in full filled. Major benefit of this scheme is that it is not only for limited peoples because 750,000 peoples can get benefit from this scheme. Moving towards the process that follows for the selection of eligible persons that is given as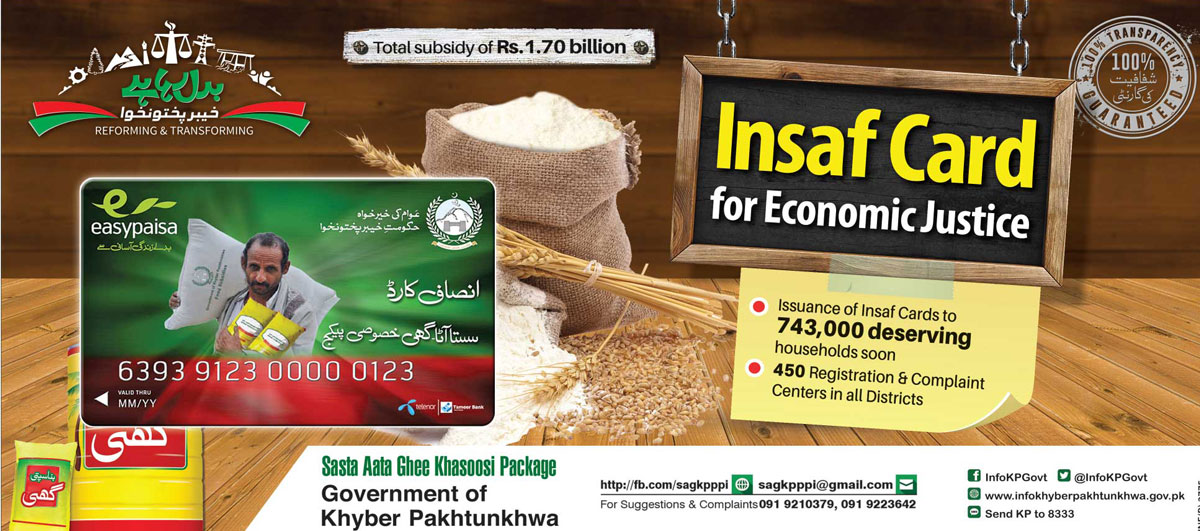 Process 1:
In selection process this time KPK government decides that they search needy peoples that are eligible for this scheme. After this selection letters are sending to all of these peoples that are selected in this list with a letter that covers whole aspects of this scheme. After this one go to nearest utility store with original CNIC and its copy along with the letter that is send to your home after selection in government survey.
Process 2:
This is quite transparent process in this scheme that finalize with collaboration of easy paisa. These cards are announced to deserve families that are finalized in government survey. After issuing of this card a conformational message is send to all card issuers. After the activation of card one bring it to Utility stores where easy paisa fix their machine. They check your identity and if one is owner of this card then easily he must get benefit from this scheme. Hopefully by complete registration and process of PTI KPK Govt Insaf Card Scheme 2015 one must get benefits in major household necessities.