Khyber Pakhtunkhwa KPK Police Submit Complaint through SMS Procedure PAS Police Access Service details that is best work by government. Every country is participating to change their environment thorough advanced technology including Pakistan. To follow this tradition The Government of KPK is going to be introduce the latest technology system for police that is also helpful for the peoples that face lot of troubles in submitting of complaints. Through this advanced system KPK police submit complain through SMS that submitted by the people of KPK and this service is known to be PAS (Police Access Service). This project started just for the serve the people of KPK because this government is committed to provide all the facilities to the people. This latest service provides after the all system of police computerized and process will be do through computerized systems. The people of this province should be submitted their complaint every time form any region of KPK and the police quick action against this complain and should be shown the result with in the 24-hours. The Chief of police of this complaint cell is given your special number "0315-9007777" and allocated this number just for SMS and started this service very soon only for the people. This system provides the facilities to quick access for the police and very helpful to finish the crime form all over Peshawar and also KPK and there is no need to be go the people for time consuming against high security barriers in this modern ways.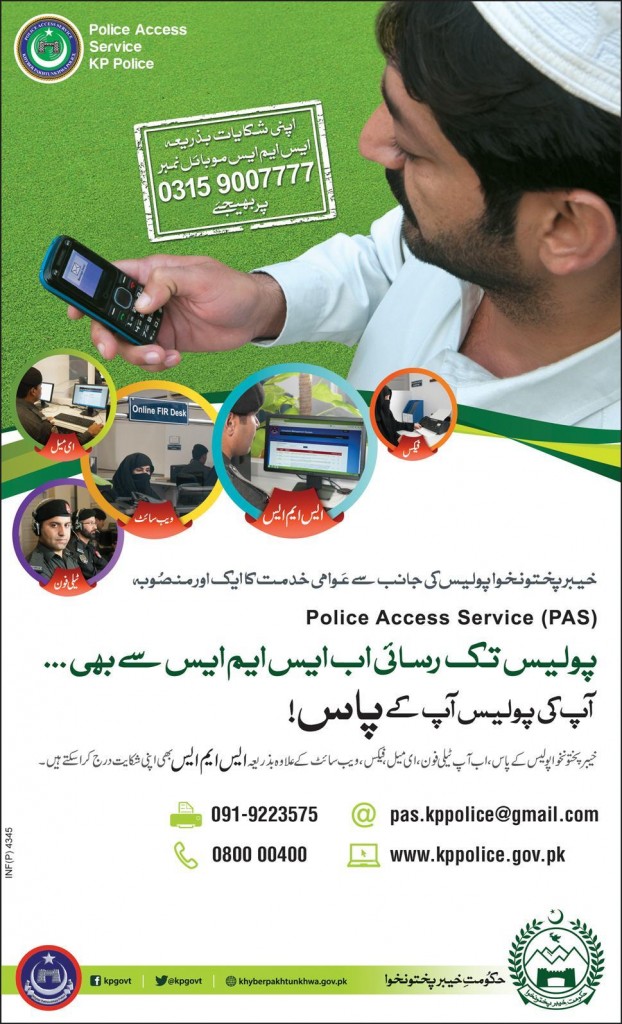 Write a Complain in new SMS and Send it to 0315-9007777
One must get reply after a period of time that is verification message SMS
PAS is quick way to access the police and quick action against their complaint and this service provides beside phone calling, electronic mail or website and this is quick process to register their complaint of any incident. There are so many sauces said the spokesman of police advised to all IGPs, DIGs, DPOs and SDPOs of KPK to given the special official cell phones for special departments that's bring the improvement the system with the help of general police against the crime and ensure the quick action against the complaint of the people. This service provides the first time in the history of Pakistan.