Latest news related to PTI 14 August long Azadi March to Islamabad is that Imran Khan Sons name Qasim and other son sulaiman Join Dharna and rally who's Pictures are also updated as they come from the location where Dharna is giving by PTI Charmain. This Azadi march is too much important for the bright future of Pakistan because presents government in not to do any such kind of good work and elected through the wrong way with the rigging in the general election. Now this time the government of the Pakistan in fully contributing to stop this Azadi march but Mr. Imran Khan is fully committed to do the Azadi march. Tahreek-e-Insaf's Chairman already announced the patron of this march and the latest news by the Imran khan son's Sulaiman and Qasim will join this Azadi march and take a part with their father in the march. In the past the visited Imran ex-wife and their beloved son's Pakistan and they don't participate in PTI and any type of other long march. But this time Imran's sons will participate in this long march in the Land of Lahore on 13 August, 2014 with their father first time in their life. This Azadi march will go and stay in Islamabad D-Chowk to till the met the demand and PTI workers promising to sleep on road for the bright future or bring change in all over the Pakistan.
Imran Khan Son Picture During Azadi March: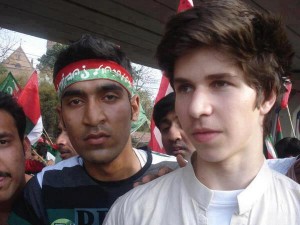 Their will time go to negotiation with the government because the government in not do their work properly. Khan's sons also will be on road under open sky for the change and bright future of Pakistan like other children of this nation. These children are just only supporting their dad during this march and don't participate in any kinds of politics in Pakistan like other politicians that's a power of great leader. These children's are participate with their dad just for the bright future of Pakistan first time in their life career and they are just kids which are effort to better future of Pakistan like other kids.