The topic here we discuss is How to Apply Natural Makeup for Brown Eyes. If you have brown eyes you lucky because you can do different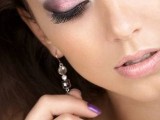 experiment with various colors and looks. Mostly women confuse which colors they use; here we help out to tell us colors for brown eyes.
Colors for brown eyes:
Here we mention some colors that are perfect to apply on brown eyes.
Blues, purples, Plum, gold, violet and pinks in addition to neutrals like chocolates, bronzes, coppers, and taupe's so on.
Eye liner for brown eyes:
After choosing eye shadow colors then choose eye liner. If you have brown eyes you can experiment with different color of eye liner. Try with various colors just like bronze, golden browns, dark grays, and navy blue, to name a few. If you want to natural eye look apply eye liner in a minimal way and blend well.
Remember an important point:
The main important thing which you keep in mind that light eye liner makes your eyes larger while dark eye liner make your eye smaller. So choose your eye liner color carefully and make sure it would suit as natural look.
How to apply eye shadow color:
First of all apply white eye color on the lid of your eye and blend very well.After this take a dark brow pencil and apply a very thin line on the upper lash. After this use a bronze to make your eye look very soft. Then use gold eye shadow and at the corner of your eye apply chocolate brown color at the edge of your eye. Take fluffy brush and then blend very well for natural looking. After this use mascara to enhance their eye lashes and then does some finishing touch. Here we tell you a secret, if you wants brighten brown eyes use navy blue mascara. Brow eyes is already beautiful but you do some extra effort to enhance them more beautiful.So keep in touch with this page for more details about eye makeup for brown eyes.