There are many women who are sometimes much worried for their nails and hence they are all the time in the search of tips for nail care. Most of the women face the excessive trouble of getting their nails as dry and rough and instantly they get break out themselves. This mostly happens because the women and girls have been much less in protein amount or they are not giving huge attention to the nail care and trimming methods. In this article we will be discussing some of the vital and imperative tips that will eventually help the women to get their nail as beautiful and stronger in growth.
Tips For Nails Care: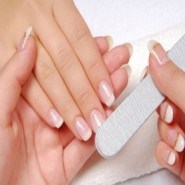 Firstly the women should take some olive oil and dip the hands for ten minutes. This will not just relaxes the hands but will also show positive outcomes over the nails as well.
If in case the women witness that her nails have been spotted with some break lines then she should rinse her hand nails with lemon juice for 15 minutes everyday.
If the nails are taking longer time scale in growth and if they are growing as weak ones then it is much possible that the human body has been equipped with less vitamin B and proteins therefore women should maintain proper diet for the nails recovery.
 When you are using the nail polish then try to cover the nails with just one coating because thrice coating will stop the oxygen of the nails and they will turn as yellow.
Avoid doing the nail biting because this habit fully destroys the nails growth and allows the inner roots to get weak.
Furthermore, women can even make the use of garlic as well because this will help in making the nails much stronger and firm.
In addition, one of the interesting facts about the nails is that during the time of pregnancy women nails growth gets increased as compare to before pregnancy. Moreover, during the winter season nails grow in much huge amount because during the winter the extreme cold will stop the nails growth to certain extent.
These have been some of the mainly prominent and vital most tips for the nail care. We are sure that after following these tips all the nails troubles will get vanished quickly and you will get a chance to fall in love with your nails one more time.