Without any doubt, both of these are most trendy vehicles of the local automobile industry. Exteriorly, these look like each other. But there is a huge difference between specification and price of  2018 model Toyota Corolla XLI and GLI in Pakistan. This comparison must make your mind clear that which automobile will full fill your requirements. If one reviews the popularity reasons for these vehicles. The sale and purchase of these models are very easy. Secondly, their spare parts are easily available in local market. And most importantly, manufacturing company of these vehicles are well aware of liking and disliking of local customers. So shape change or every new spec get a lot of appreciation from the sides of customers.
Another major reason to buy these cars is their suitability with local roads. So by multiple factors, both of them are best option to buy in Pakistan. Moving towards their difference, then specs wise 2018 GLI is better then XLI. With this, its price is also high, so its depend on you that which one will come in your range.
Toyota Corolla XLI and GLI 2018 Difference
Price of Xli:
Price of Gli:
Manual: 18,89000
Auto: 19,64000
Note: Probably these are last model cars of both XLI and GLI. Becuase of too much exterior similarity, company has decided to close them down. And aim to replace with some two entirely different vehicles.
Outer Look: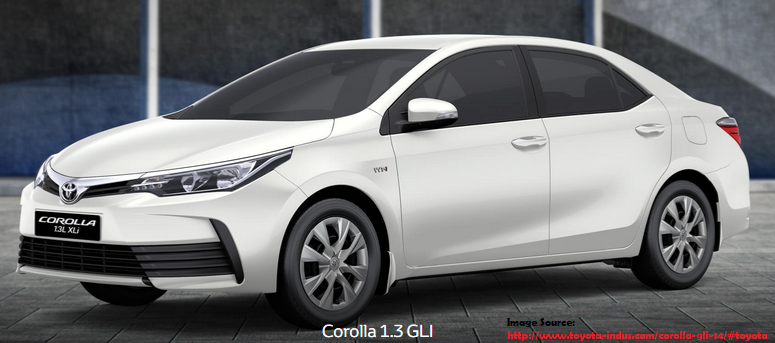 Major Specs Contrast:
 XLI and GLI 2018 Price and Specs Difference
One of major difference among them is that Automatic option is only available in GLI.
Second considerable dissimilarity is Anti Theft System.
Meanwhile, braking system of both vehicle is not same to each other.
Previously, automatic GLI is also equipped with 1600 engine. While XLI is always a 1300cc car. But now the company has ended up this dissimilarity. Although apparently, these look minor differences. But these are matters a lot. So it's your choice that which one will like more. Hurry up, because after booking one need to wait for three or four months.