This is a right place where one can find out the AFH-Ayesha Farook Hashwani Women Winter Dresses 2013-2014. AFH stared work in the Pakistan fashion industry in 2005 by Ayesha F. Hashwani. Since then she proved her artistic skill and makes a different name among the other popular fashion icons. She use in her collections stylish cuts with unfussy details, drapery and flowy fabrics which make her all collection elegant. Every piece of her collection synonymous with grace and refinement and one can use it on any occasion. She often uses voiles to chiffons, silks and Carmeuse fabrics and also works with sheer fabrics, beads and crystals. AFH-Ayesha Farook Hashwani is popular not only in Pakistan but also across the world. She launched her various collection at international level in different countries and their available at Studio 8 in Dubai, O'nitta London, Ensemble Dubai and Lahore, Signature Toronto, The Designers Dubai, Glitterati Houston, and Melange Islamabad.
AFH-Ayesha Farook Hashwani Women Winter Dresses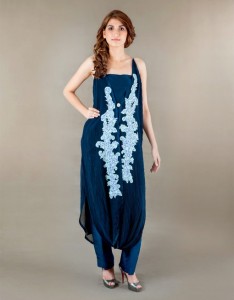 AFH-Ayesha Farook Hashwani Women Winter Dresses are given there..
Here we share with you AFH-Ayesha Farook Hashwani new women winter collection which recently has launched. In this collection you can find out the mixture of traditional, cultural, and western outfits the stitching styles of this collection is osam and perfect for every occasion. AFH-Ayesha Farook Hashwani adorned their new collection with embroidery, pleated, embroidery panels, colorful laces and any more beautiful accessories. One can use these women wear as a casuals, formal, party wear so on. She also use soft and bright colors in their outfits just like blue, white ,black ,sea green ,yellow, red and many more d3cent colors. This is an amazing and attractive women collection and fulfills the desires of fashion lover women.
Here we display some unique pictures of this new women winter collection and you can choose from these pictures according to their choice. Her new collection can be seen with western look but it sunning when you wear it. So keep in touch with this page for latest updates of AFH-Ayesha Farook Hashwani women wear.