Here we share with you Heritage couture formal dresses 2014 for women. Heritage Couture is one of the popular brands in Pakistan which showcased different collection for women. This brand come in the fashion field in 2010 a d since then this brand offer their customers not only clothing line but also other accessories .Two designer Anum and Naseha play a vital role in creating this brand and offer creative and innovative designs for their customers. Both designers are well known and people know due to their unique style of work in fashion field. The main aim of these designers gives their clients a quality work so that their every collection will be liked on high level. Recently this brand has showcased their new formal dresses along with long gowns as well as frocks. Both designers give their collection traditional and western look because they consider the requirements of their customers .
Heritage Couture Formal Dresses 2014 for Women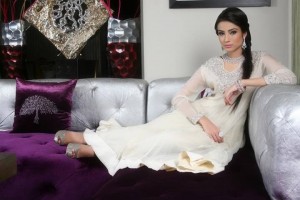 The new formal range of dresses is a perfect choice for those ladies who attend any party and get together. Heritage Couture embellished their collection with embroidery work which increases the beauty of women wear. All members of this brand give their 100 percent to satisfy their customers with gorgeous and stylish work. Here we display beautiful look of this new stunning collection. This new collection is available at all places where Heritage Couture outfits usually sale out. The designers are use very smooth and soft colors according to the season just like white, blue, off white, grey and many more. So if you want to get those formal dresses which available with traditional and western combination so must try this new Heritage Couture formal wear dresses.