University of Health Sciences(UHS) finally announced the Schedule for MCAT Test 2012 for MBBS and BDS Entry Test 2012 so here is UHS application schedule for MCAT Test 2012 given below. Every year University of health Sciences(UHS) Lahore conducts an entrance test and this year Entrance Test Date is 23 September 2012 as per details said. All candidates are eligible to apply for this Test and 11 District of Punjab Province are eligible to respond this Test.
According to official new caster of University of Health Sciences there are total 3305 seats there for which are going to participate in this Entry test for MBBS Admissions and  BDS seats are just 216. Students can get their entry Test form from 31 August 2012 and last date for submitting the admission form is 9 September 2012. UHS only charged 500 Pakistan Rupees for entry test along with admission form. The detailed information session will be conducted by UHS(University of Health Sciences) in Allama Iqbal College Auditorium on 25 August 2012.
Official Date: Sunday, 23rd September, 2012
Official Time: 09:00 A.M
Application schedule for MCAT Test 2012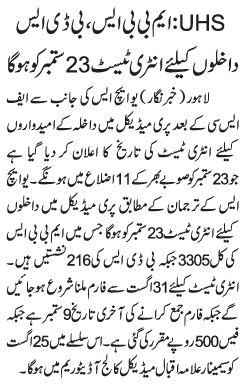 MCAT Test 2012 Marks division:
The duration of Test shall be 150 minutes (2½ hours). Each question carries 05 marks. Total marks, therefore, are 1100. There shall be Negative Marking in the test. For each correct answer, 05 marks will be awarded whereas for each incorrect answer, one (01) mark will be deducted from the total score.
The test shall consist of one paper containing 220 multiple-choice questions (MCQs)- four options with single best answer- divided into Four sections, namely Physics (44 MCQs), Chemistry (58 MCQs), English (General for language proficiency) (30 MCQs), Biology (88 MCQs).

Submit your admission form
The candidates shall submit the duly filled Application Forms at the same center from where they received the Entrance Test kit while getting the admission forms, from 31st August to 9th September 2012 (including Sundays) from 09:00 AM to 03:00 PM which is an official Timings for office.
Why MCAT 2012 is compulsory?
Rules and Regulations of Pakistan Medical & Dental Council (PMDC) said that it is compulsory to appear in the Entry(Entrance) Test of the Punjab for admission to any medical/dental college of the Punjab Province.
MCAT Eligibility?
The applicants are eligible for the test who has passed Intermediate Science (HSSC/F.Sc) (Pre-Medical Group) or Equivalent Examination, securing at-least 60% (660/1100), unadjusted marks (excluding the marks of Hifz-e-Quran etc.). Those having foreign qualifications such as A-Level or American 12th Grade, shall have to provide the Equivalence Certificate issued by Inter-Board Committee of Chairmen (IBCC).
The candidates having domicile of any district of the Punjab and Federal Capital Area (Islamabad), Azad Jammu & Kashmir and Province of Gilgit-Baltistan (Northern Area) can apply. Dual nationals of Pakistani origin must take the Entrance Test (If they have not passed SAT II examination with a minimum score of 550 marks in each science subject i.e., Biology, Chemistry and Physics / Mathematics) for admission against seats reserved for them under Pakistan Technical Assistance Program (PTAP) and Self- Finance Scheme (SFS).
Compulsory Documents should be attached with Admission form:
The candidates shall submit following documents with their applications:
Attested copy of Matriculation/SSC or equivalent examination Certificate. Attested copy of HSSC/FSc (Pre-medical) or equivalent examination Certificate. Computer-generated result cards are also acceptable.  Attested copy of Birth Certificate issued by the Union Council, if date of birth is not mentioned on Matriculation certificate. Duly filled Admittance Cards (both copies). The cards must not be separated. Please paste two coloured photographs (2.5 cm x 2.5 cm) on the two cards.
One self-addressed A-4 size envelope with Rs 40/- postage stamps.Four recent coloured photographs (3.5 cm x 4.5 cm) of the candidate. One to be pasted on the application form and attested on the front and other three, attested on the back, to be attached with the form. Attested copy of domicile certificate of the candidate. No other document shall be acceptable in lieu of domicile certificate.
Foreign candidates shall provide the attested copy of their foreign passport in lieu of domicile. Hafiz-e-Quran shall present a certificate of Hafiz-e-Quran, issued by a registered Madrassa.
Admittance Cards after submit Application:
The Admittance Cards will be available from 11th September to 15th September, 2012, from 09:00 AM to 03:00 PM at respective centers.
For further details keep in touch with us at this page only about Application Schedule For MCAT Test 2012 here at this.