In between discussion of famous designers of Pakistan, how we will miss name of Maria B. Now in 2018 winter collection of this designer is in completion stage. She has been working in Pakistan fashion industry for quite a long time. She gave her first appearance in the fashion world with the formation of company named as Maria B Private Limited. She has been just engaged in serving the women and girls with the clothing collections. For all the forthcoming and religious festivals this designer has always arrived with fresh looking designs and styles that has always make the women feel crazier for her dresses. There are many sub brands that belong to Maria B adding with Maria B lawn, cotton and Maria B Brides. She has even honored with huge amount of awards as well that surely symbolizes her talent and hard work towards the work.
With the passage of time she has also highlighted her shoes and jewellery collection that are providing chance of best type of matching. This is good addition that now one can find all accessorizes of attire from one platform.
This time Maria B has arrived in the fashion market with the launch of her exclusive and most modern looking winter collection 2018 for women. The collection has been undoubtedly superb looking that just falls within the newest and fresh fashion trends.
Note: Winter collection will expect to launch at end of 2017 Nov and second volume will probably make public in Jan 2018.
A cloth pic from last collection whose elegance is very clear: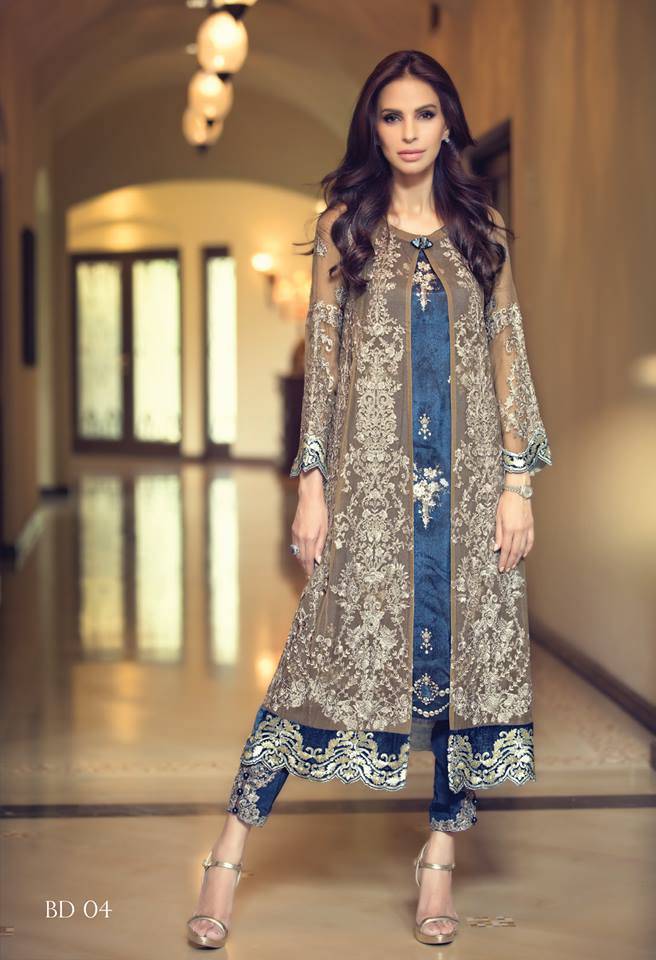 The entire collection of Maria B has been revolving within the long shirts that have been elegantly blended with the ongoing fashion trend of Churidar Pajamas and trousers. The color combination used in the winter dresses have been much brighter looking and quite impressively blended with the soft and light shades adding with yellow, red, green, brown, orange and blue. Let's have a look at some of the exciting looking pictures of Maria B winter collection 2018 for women.
In addition, most of the dresses have been decorated with the embroidery work and prints that has turn the collection much alluring and appealing for the women. All the women and girls can perfectly and without any hesitation make the choice of all such winter dresses for making them pretty and catchy on get together functions and social gatherings.
Catalogue from Previous collection:
In simple words, the collection Maria B has really designed the collection in decent and well turned out manner. If the women really love this winter collection 2018 by Maria B and they need to know about the breathing rates then they can immediately get hold over the facebook fan page now. So wait for little bit, for sure you will get better option.